PEOPLE EXPECT TO BE CONNECTED ANYWHERE, ANYTIME.
Plan, design, and deliver indoor wireless networks smarter and faster with iBwave.
DISCOVER OUR SOLUTIONS
Scroll to learn more about iBwave
All New iBwave Wi‑Fi® User Interface is Here
The fastest way to design carrier-grade Wi-Fi networks.
TRY IT FREE TODAY
All new Capacity Planning!
Plan capacity simpler and faster with our new capacity planning features. Identify specific capacity zones, plan for both cellular and Wi‑Fi, and easily view capacity heatmaps in 3D.
TRY IT FREE TODAY
Online certification for iBwave Wi‑Fi® Mobile is here!
Designed for technicians and installers looking to improve their Wi‑Fi site survey and design skills, this online training is the simplest and quickest way to take full advantage of our powerful site survey and design mobile app, iBwave Wi‑Fi® Mobile.
LEARN MORE
iBWAVE: the power behind great in-building wireless experiences
CASE STUDY: HOW NCR TELECOM & TECHNOLOGY, A LEADING WIRELESS INTEGRATOR, IS USING iBWAVE TO DESIGN CONVERGED NETWORKS IN THE ENTERPRISE.
In order to design and deploy high‑quality networks their customers can rely on, the NCR T&T division has chosen to use iBwave Design as their standard software to design multiple in‑building wireless networks, including: DAS, Small Cells, Wi‑Fi, Public Safety and cabling routes.
DOWNLOAD PDF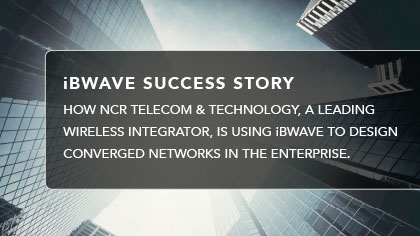 CASE STUDY: A TIER-1 OPERATOR SAVES 10 HOURS ON THE PLANNING AND DESIGN OF AN ENTERPRISE SMALL CELLS NETWORK WITH iBWAVE MOBILE PLANNER
A tier-1 operator was deploying a SpiderCloud small cells network in a warehouse for a leading American retailer. We joined them onsite with our mobile app, iBwave Mobile Planner, giving the operator an opportunity to see how they could signi cantly reduce the amount of manual work required on a site survey, and complete a full design on-site. They were very happy with the results.
VIEW CASE STUDY
DOWNLOAD PDF
Some of our over 800 clients worldwide
Save on Certification & Training Courses
Bundle up and save on iBwave Design Enterprise certification & training. You can save up to 22% when you bundle 2 or more different iCP levels. The iBwave Certification Program is recognized by BICSI for Continuing Education Credits (CECs) and each level accounts for the following number of credits at completion.
LEARN MORE
Webinar: Site Surveys Simplified
Designing an in-building wireless network can be a daunting task if you don't have the right tools. Luckily there are solutions that can simplify your life, starting from the site survey all the way to the final design and deployment phase.
WATCH WEBINAR
The largest database of components at your fingertips
The iBwave Components Database provides easy access to all the latest in-building wireless components and technologies, enabling the most accurate, state-of-the-art indoor wireless network design planning and deployment.
REGISTER TODAY