iBWAVE

3D MODELER
CREATE 3D LAYOUT PLANS IN MINUTES
The iBwave 3D Modeler software is the ideal tool for RF engineers and CAD specialists to create 3D building models for in-building DAS projects. Optimize resource usage by having specialized teams prepare accurate 3D layout plans for simulations while RF engineers focus on creating great DAS designs. Projects can be freely exchanged between the iBwave 3D Modeler and iBwave Design Suite, encouraging seamless collaboration between team members.

iBWAVE 3D MODELER IN THE POST-DESIGN PHASE
For maintenance, troubleshooting and consultation, iBwave 3D Modeler gives drafters, construction professionals and field technicians a perfect tool to consult architecture and construction work.
REQUEST A FREE TRIAL
WATCH VIDEO
VIEW TECHNICAL REQUIREMENTS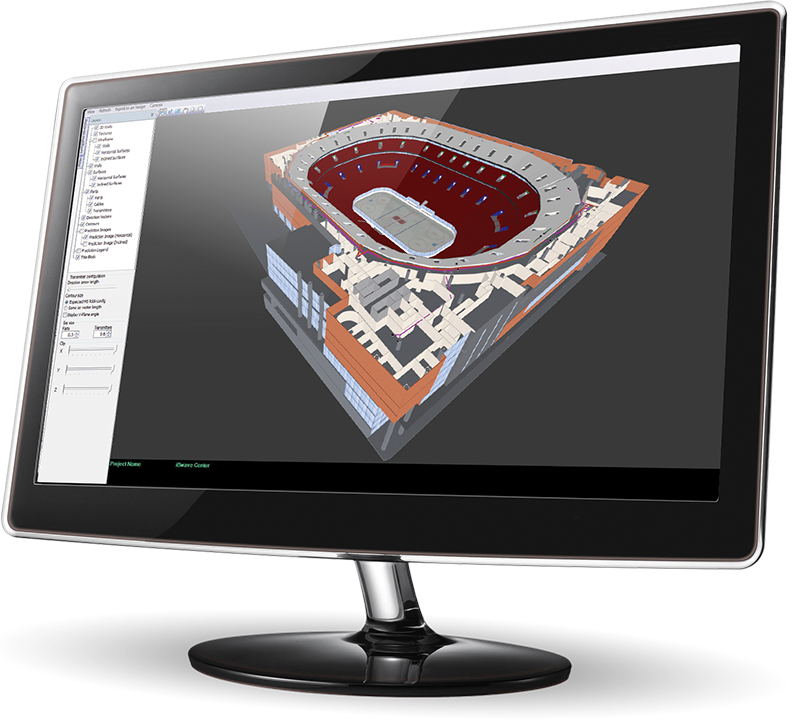 SOFTWARE REQUIREMENTS
Microsoft Internet Explorer 7.0 or later
Install the latest Windows service packs and critical updates from the Windows Update site
Administrative rights are required during installation
HARDWARE REQUIREMENTS
Minimum
3D Modeler is only PC (no android mobile or tablet)
Processor: > 2.0 GHz
Operating System: Windows Vista, Windows 7, Windows 8 or Windows 10
Memory: 2 gigabytes (GB) of RAM
Hard Disk: 500 MB (including Microsoft .NET Framework installation)
Display: 1024 x 768, 24 bits
Recommended (for large projects)
Processor: Intel i7 Processor 2600 (3.4 Ghz) or more
Operating System: Windows 7 64-bit, Windows 10 64-bit
Memory: 12 gigabytes (GB) of RAM or more
Hard Disk: 500 MB (including Microsoft .NET Framework installation)
Display: 1680 x 1050, 32 bits
Video Card with 3D support and at least 256 Mb
* iBwave Design does not allow the usage of multiple simultaneous Terminal Server sessions.
* iBwave Design will not run under multiple simultaneous Terminal Servers
* iBwave Design product line is not supported on virtual environments.
Full-featured 3D building modeling capabilities with horizontal and inclined surfaces
Accurate 3D models for in-building propagation simulations
Increased collaboration and structured workflow with a streamlined project development process
How can iBwave 3D Modeler help you?
Optimize the use of your workforce: allow CAD specialists to create 3D building models and transfer them to RF engineers for DAS design, to optimize their time and skillset
Design phase collaboration: seamless exchange of building models and network designs back and forth between CAD specialists and RF engineers for corrections improves communication and collaboration
Project management integration: iBwave 3D Modeler is available as part of the iBwave Unity project management platform
---
Technical Features
Building modeling
Import floor plans from .dwg, .dxf, .jpeg, .bmp, .tiff, .gif or .pdf files
Create and delete building entity
Modify building properties
Draw walls and assign materials from built-in list
Manipulate walls and surfaces and set wall height
REQUEST A FREE TRIAL
Draw horizontal and inclined walls and assign materials from built-in list
Calculate length and area
Design plan organizer
Show floor plan and building in 3D
Export building to Google earth
CAD export
Export files to .dxf format
Find out how iBwave 3D Modeler can help you optimize your network planning and design resources