iBwave Wi-Fi® Suite
Streamline your Wi-Fi network planning and design with the iBwave Wi-Fi® Suite.
The iBwave Wi-Fi® Suite gives you a radically more productive and collaborative way to work on Wi-Fi network design projects. With cloud connectivity across all products in the suite, projects can be easily opened in any of the products, any time. Start a survey and design on-site using iBwave Wi-Fi® Mobile on your tablet. Save it to the cloud so you or your team can easily open the files and complete the design in stunning 3D using the more powerful PC version, iBwave Wi-Fi®. When ready, send the project to your customer who can easily open and review it in iBwave Viewer, a simplified read-only version of the software for customers. The result? Easier collaboration, more productivity and happier customers.
BUY NOW
VIEW TECHNICAL REQUIREMENTS
VIEW DATASHEET
VIEW Wi-Fi SOLUTION
WATCH Wi-Fi DEMO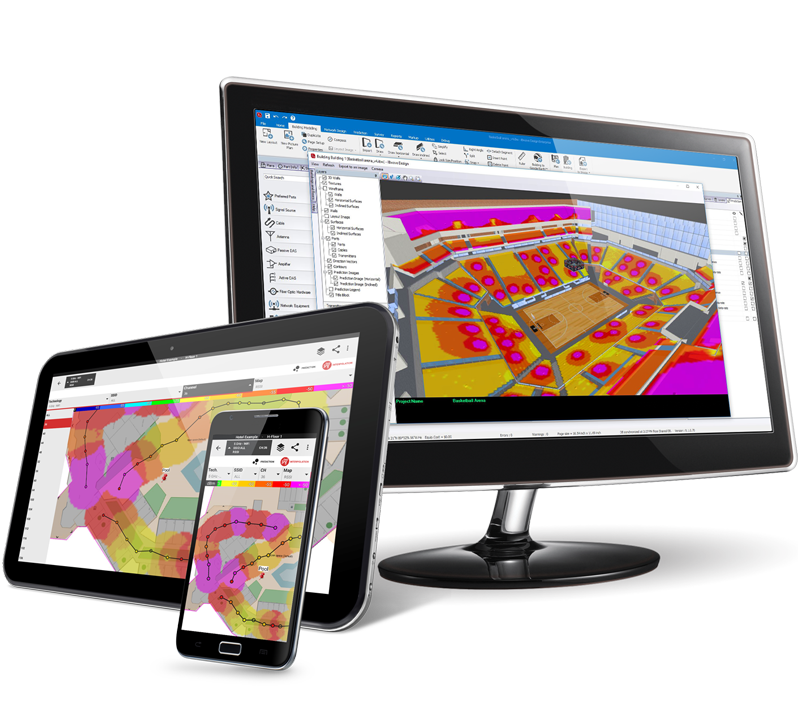 iBwave Wi-Fi® MOBILE TECHNICAL SPECIFICATIONS
SOFTWARE REQUIREMENTS
HARDWARE REQUIREMENTS
Minimum
1,2 Ghz CPU Dual Core
1GB of RAM
Built-in rear camera
Recommended
1,6 Ghz CPU Quad Core
2GB of RAM
* While iBwave Wi-Fi® Mobile should work on most Android™ based phones & tablets, we cannot guarantee that it will be compatible with all of them. For integration with 3rd party collection tools, you should first contact your respective vendor to determine device requirements.
iBwave Wi-Fi® TECHNICAL SPECIFICATIONS
SOFTWARE REQUIREMENTS
Microsoft Internet Explorer 7.0 or later
Install the latest Windows service packs and critical updates from the Windows Update site
Administrative rights are required during installation
HARDWARE REQUIREMENTS
Minimum
Processor: > 2.0 GHz
Operating System: Windows Vista, Windows 7, Windows 8 or Windows 10
Memory: 2 gigabytes (GB) of RAM
Hard Disk: 500 MB (including Microsoft .NET Framework installation)
Display: 1024 x 768, 24 bits
Recommended (for large projects)
Processor: Intel i7 Processor 2600 (3.4 Ghz) or more
Operating System: Windows 7 64-bit, Windows 10 64-bit
Memory: 12 gigabytes (GB) of RAM or more
Hard Disk: 500 MB (including Microsoft .NET Framework installation)
Display: 1680 x 1050, 32 bits
Video Card with 3D support and at least 256 Mb
SUPPORTED Wi-Fi ADAPTERS
Netgear A6200
D-Link DWA-182 Revision A1
Asus USB-AC53
Buffalo AC866 N300
Belkin F9L1106az v1
BT 11ac Dual Band 900
AirPcap Nx: USB 802.11a/b/g/n
* iBwave Wi-Fi® does not allow the usage of multiple simultaneous Terminal Server sessions.
* iBwave Wi-Fi® will not run under multiple simultaneous Terminal Servers.
The ability to design and visualize Wi-Fi networks in 3-D is a unique iBwave feature that I have come to rely on for access point placement and troubleshooting. The granularity iBwave provides is exceptional, especially with the new capability to design with multi-radio APs that are unique to Riverbed Xirrus for supporting high density Wi-Fi networks. Add to that the mobile tools and the variety of reports you can generate makes iBwave an invaluable tool for Wi-Fi deployment.
- Ty Parker, Director Solutions Engineering for Riverbed CWNE #173 -
iBwave's 3D predictive modeling and new smart antenna contouring with fast ray tracing takes Wi-Fi design tools to a whole new level.
- Alan Blake, CWNE #129, CWNT, United Kingdom -
From a vendor neutral perspective, probably iBwave Wi-Fi (PC Version) is the most advanced solution in the market. With full support to integrate Wi-Fi APs with detailed backhaul cabling , network infrastructures and budgeting, 3D venue modeling and network visualizations, the most advanced RF calculations for prediction accuracy, and cloud integration to simplify the interaction between Wi-Fi architects, project managers and site surveyors.
- Ronald Van Kleunen, CWNE #108, CEO Globeron -
In today's high density Wi-Fi environments, airtime is a precious commodity that is best served by the abundance of available channels in 5 GHz. Access points with dual 5 GHz radios are best suited to meet airtime and capacity needs. A software selectable radio also offers the benefit of 2.4 GHz connectivity when needed. iBwave's multi-radio feature assists any WLAN professional with dual 5 GHz WLAN designs in addition to legacy 2.4/5GHz WLANs designs.
- David Coleman CWNE #4 -
iBwave Wi-Fi® Mobile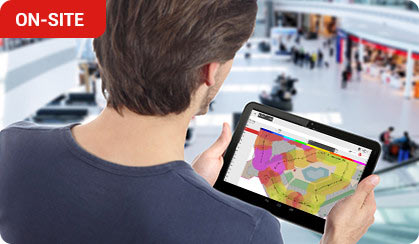 Take iBwave Wi-Fi® Mobile on-site to survey, design, validate and share your Wi-Fi networks. Do active and passive surveys, capture site aesthetics to geo-located pushpins on the floor plan, start your design as you walk the site and then save all your files to the cloud for you or your team to open, model and design on the PC with the more powerful iBwave Wi-Fi®.
GO TO iBWAVE Wi-Fi MOBILE
CONTACT US

iBwave Wi-Fi®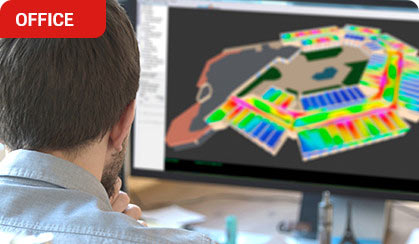 iBwave Wi-Fi® is our powerful PC-based 3D Wi-Fi network planning and design solution. Use it in conjunction with iBwave Wi-Fi® Mobile or on its own to do active and passive surveys, model venues in stunning 3D, design from a full database of accurately-modeled network components (APs, cables, controllers, routers, switches), calibrate prediction with survey data, and run key project reports for your installation team and customers.
GO TO iBWAVE Wi-Fi
CONTACT US

iBwave Viewer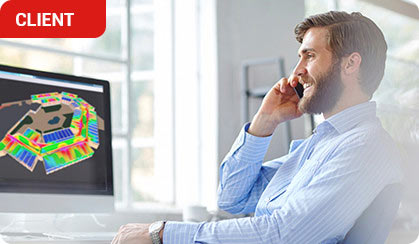 iBwave Viewer is a free, simplified and read-only version of iBwave Wi-Fi® your customers can download to review any project design files you send them and run their own reports.
GO TO iBWAVE VIEWER
WHITE PAPER: 7 KEY FACTORS TO CONSIDER WHEN DESIGNING Wi-Fi NETWORKS
In the age of smartphones and tablets, data usage has become so heavy, and use cases so diverse, that Wi-Fi network design requires strategic thinking. This white paper addresses the following seven Wi-Fi network design topics in detail and outlines best practices for Wi-Fi network design. AP placement, AP coverage control, Dominant use case, Vertical markets, Interference management, Radio-Frequency (RF) band steering and Capacity planning.
DOWNLOAD WHITE PAPER PDF
VIEW Wi-Fi SOLUTION