EVOLVING TRENDS AND OPPORTUNITIES WITHIN THE
IN‑BUILDING WIRELESS INDUSTRY

AN iBWAVE SEMINAR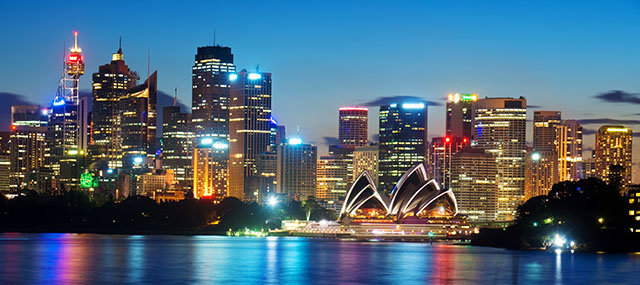 WEDNESDAY OCTOBER 25TH, 2017
SYDNEY, AUSTRALIA




The iBwave team is excited to be back in Australia with an all new in‑building seminar. An estimated 75% of all Australians are now using smartphones and its not a surprise that mobile data consumption grew by 35% to 110,000 TB in 2016. With this growth comes the need to build better more reliable in‑building wireless networks to meet the increasing consumer demand for connectivity.

Join us for this free two‑part seminar to learn about the latest global best practices of designing efficient in‑building networks and how iBwave helps you design for any technology be it DAS, Cellular, Wi‑Fi or HetNets.

What will be covered?
The morning session will cover all things wireless, from global IBS trends within the Cellular industry to DAS/Small Cell deployment case studies (featuring stadiums). Learn what's new in iBwave's latest product release and how it can make your life easier.

The afternoon session will focus on the exciting world of Enterprise Wi‑Fi. You will learn about iBwave's Wi‑Fi offering and how we can help you design more efficient and reliable Wi‑Fi networks. If you are a player in the Wi‑Fi space then this is the session for you.

You are welcome to join one or both sessions, by simply choosing from the registration options below.



WIRELESS CARRIER SESSION (AM)

09:00 – 09:30

Registration

09:30 – 09:45

Welcome Address

09:45 – 10:15

IBS Trends
- The Global iBwave customer perspective

10:15 – 11:00

Case Studies
- DAS/Small Cell deployments and best practices around the world

11:00 – 11:30

Use Case
- Operator presentation

11:30 – 12:00

Industry panel featuring major operators and system integrators


12:00 – 14:00

Lunch

ENTERPRISE Wi-Fi SESSION (PM)

13:40 – 14:00

Registration

14:00 – 14:15

Welcome Address

14:15 – 15:15

Wi-Fi iBwave solution offering

15:15 – 15:45

Case Study
- Wi-Fi stadium design using iBwave

15:45 – 16:15

Use Case
- Vendor presentation

16:15 – 17:00

Wi-Fi Workshop
- Team event (Wi-Fi design of event venue)

17:00 – 17:15

Closing remarks
iBWAVE TEAM:
Sunder Arumugam, Team Lead APAC Sales Engineering
Satuko Tamtama, Sales Manager APAC

WHEN:
Wednesday October 25TH, 2017

WHERE:
Hilton Sydney Hotel
488 George St | Sydney NSW 2000 | Australia | Google Map

COST:
Free


| | | |
| --- | --- | --- |
| Register for WIRELESS CARRIER SESSION (AM) | | |
| Register for ENTERPRISE Wi-Fi SESSION (PM) | | |
| Register for BOTH SESSIONS | | |



Please RSVP by clicking the "Registration" button above.

This event is free to attend for all players in the indoor wireless industry but SEATS ARE LIMITED. Be sure to sign up today to secure a spot!

Please contact Sunder Arumungam with any questions.

See you there!

Sunder Arumungam
Team Lead APAC Sales Engineering, iBwave Solutions Inc.
M: +65 9007 3017

About iBwave
iBwave Solutions, the standard for converged indoor network planning is the power behind great in-building wireless experience, enabling billions of end users and devices to connect inside a wide range of venues. As the global industry reference, our software solutions allow for smarter planning, design and deployment of any project regardless of size, complexity or technology. Along with innovative software, we are recognized for world-class support in 90 countries, industry's most comprehensive components database and a well-established certification program. For more information visit: ibwave.com
FOLLOW US ON ...



T +1 855 4.iBwave • F +1 514 409 2499
7075, Robert-Joncas • Suite 95 • Montreal, QC • H4M 2Z2 Canada