A single solution to design CBRS and Wi‑Fi networks you can rely on. iBwave Private Networks (CBRS with Wi‑Fi Solution)
iBWAVE PRIVATE NETWORKS

(CBRS with Wi‑Fi Solution)
A SINGLE SOLUTION TO DESIGN CBRS AND Wi‑Fi NETWORKS YOU CAN RELY ON.
With cloud-connectivity, seamless integration to iBwave Mobile Survey for surveys, advanced 3D modeling,a powerful prediction engine focused on delivering design accuracy even in complex venues, and a large database of vendor-modeled network parts, iBwave Private Networks is the simplest and most reliable solution to plan, design and deliver high-performance CBRS and Wi‑Fi networks.
This software comes with either Wi‑Fi only solution or as a CBRS and Wi‑Fi solution to give you complete flexibility.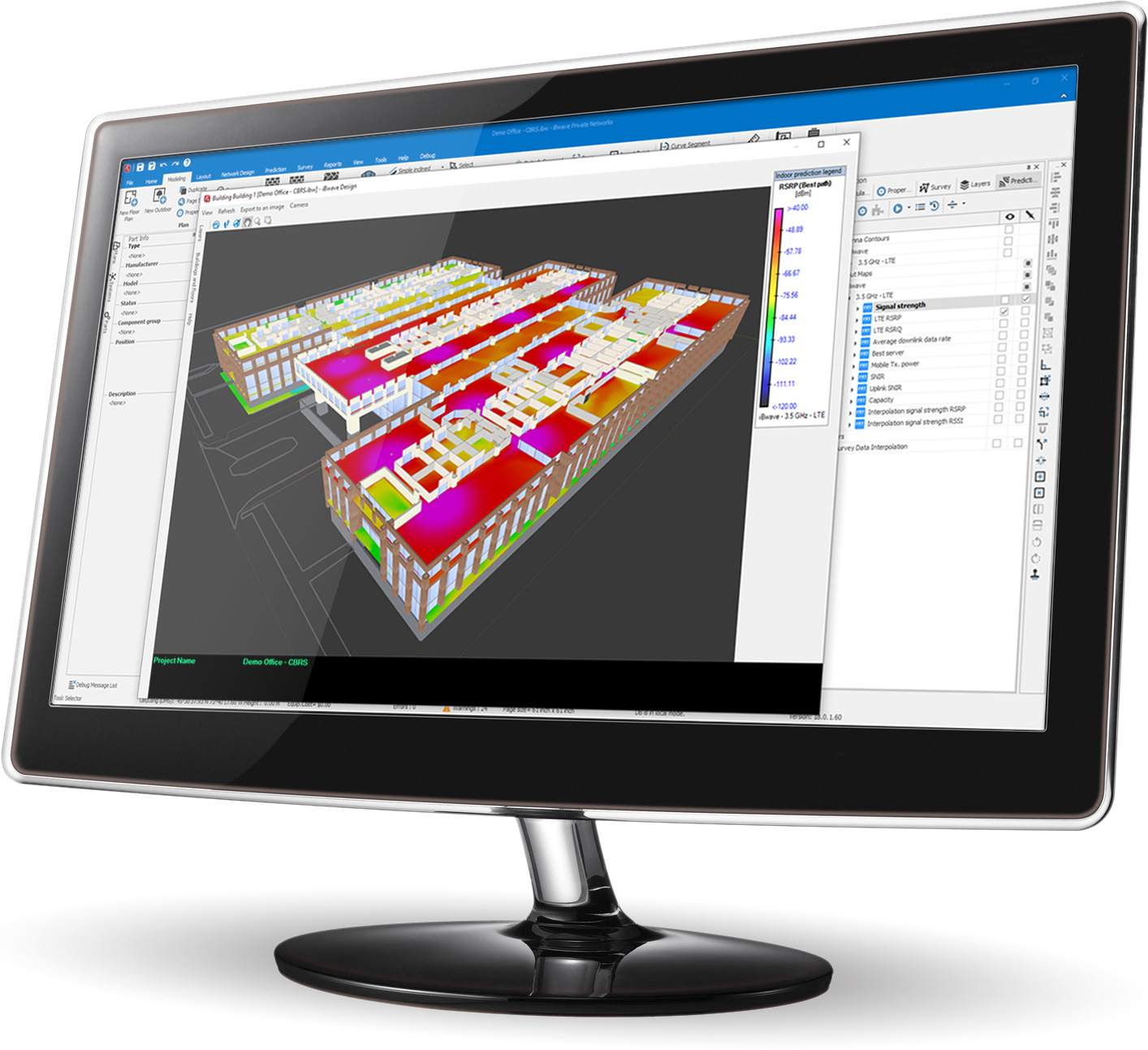 The ability to design and visualize Wi‑Fi networks in 3-D is a unique iBwave feature that I have come to rely on for access point placement and troubleshooting. The granularity iBwave provides is exceptional, especially with the new capability to design with multi-radio APs that are unique to Riverbed Xirrus for supporting high density Wi‑Fi networks. Add to that the mobile tools and the variety of reports you can generate makes iBwave an invaluable tool for Wi‑Fi deployment.
- Ty Parker, Director Solutions Engineering for Riverbed CWNE #173 -
iBwave's 3D predictive modeling and new smart antenna contouring with fast ray tracing takes Wi‑Fi design tools to a whole new level.
- Alan Blake, CWNE #129, CWNT, United Kingdom -
From a vendor neutral perspective, probably iBwave Wi‑Fi (PC Version) is the most advanced solution in the market. With full support to integrate Wi‑Fi APs with detailed backhaul cabling , network infrastructures and budgeting, 3D venue modeling and network visualizations, the most advanced RF calculations for prediction accuracy, and cloud integration to simplify the interaction between Wi‑Fi architects, project managers and site surveyors.
- Ronald Van Kleunen, CWNE #108, CEO Globeron -
In today's high density Wi‑Fi environments, airtime is a precious commodity that is best served by the abundance of available channels in 5 GHz. Access points with dual 5 GHz radios are best suited to meet airtime and capacity needs. A software selectable radio also offers the benefit of 2.4 GHz connectivity when needed. iBwave's multi-radio feature assists any WLAN professional with dual 5 GHz WLAN designs in addition to legacy 2.4/5GHz WLANs designs.
- David Coleman CWNE #4 -
What can iBwave Private Networks (CBRS with Wi‑Fi Solution) do for you?
Flexible Licensing
iBwave Private Networks licensing is flexible to cater to your business and license needs. When you purchase you can choose if you want to start with the base solution of just the Wi‑Fi design or the full CBRS with Wi‑Fi solution. You can also choose the best licensing model for your business.
CBRS (with Wi‑Fi) Solution. A full CBRS solution that includes Wi‑Fi to give you the full network design solution. Bands include: n48 - 3.5Ghz LTE and 5G for CBRS.

Subscription: 3 or 12 months
Single or Unlimited Users Options


Subscription Licenses. Licensing is offered via a 3‑month or 12‑month subscription for a single user.
Floating Licenses. Floating licenses enable you to share one license amongst a team of users.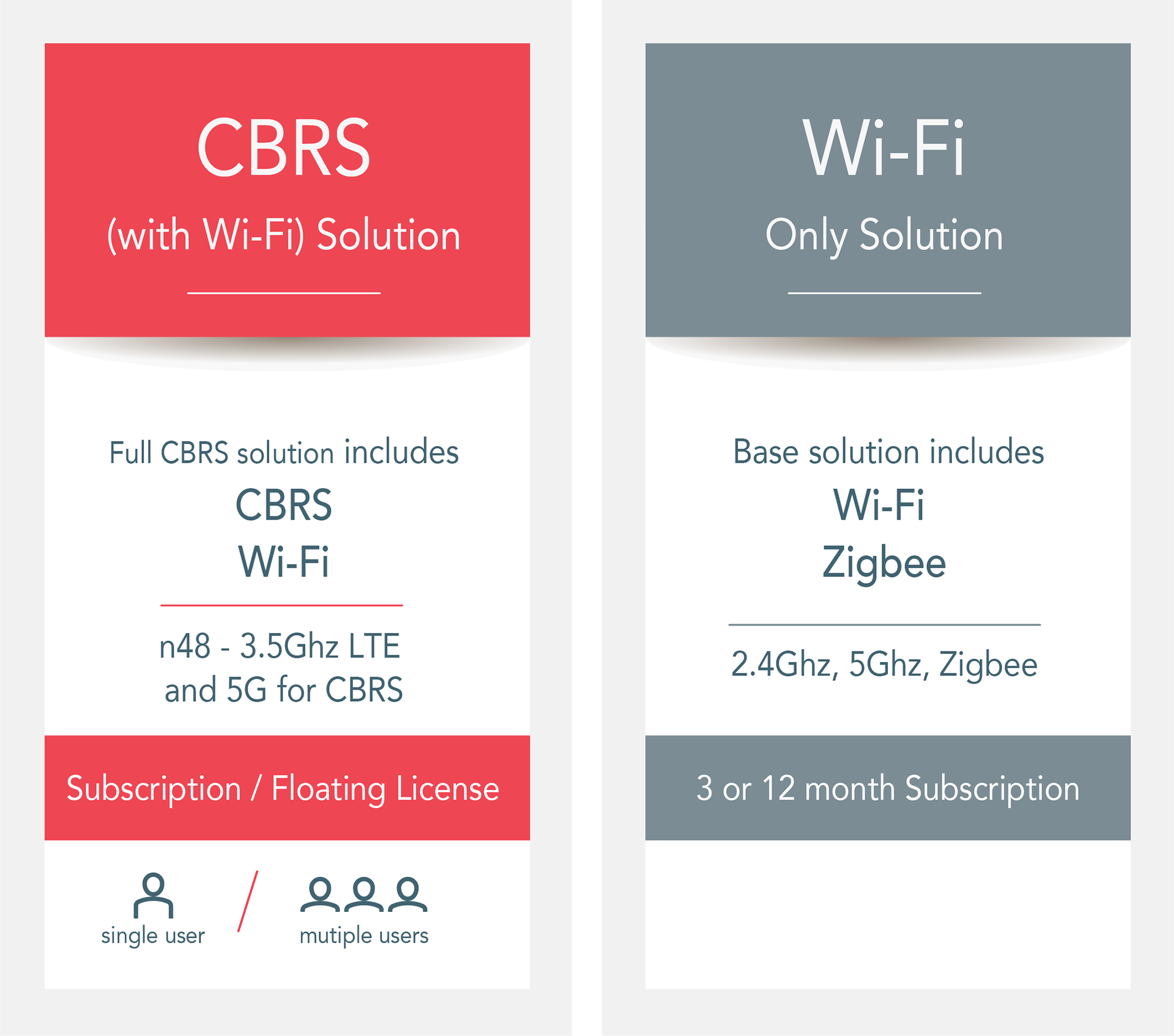 ---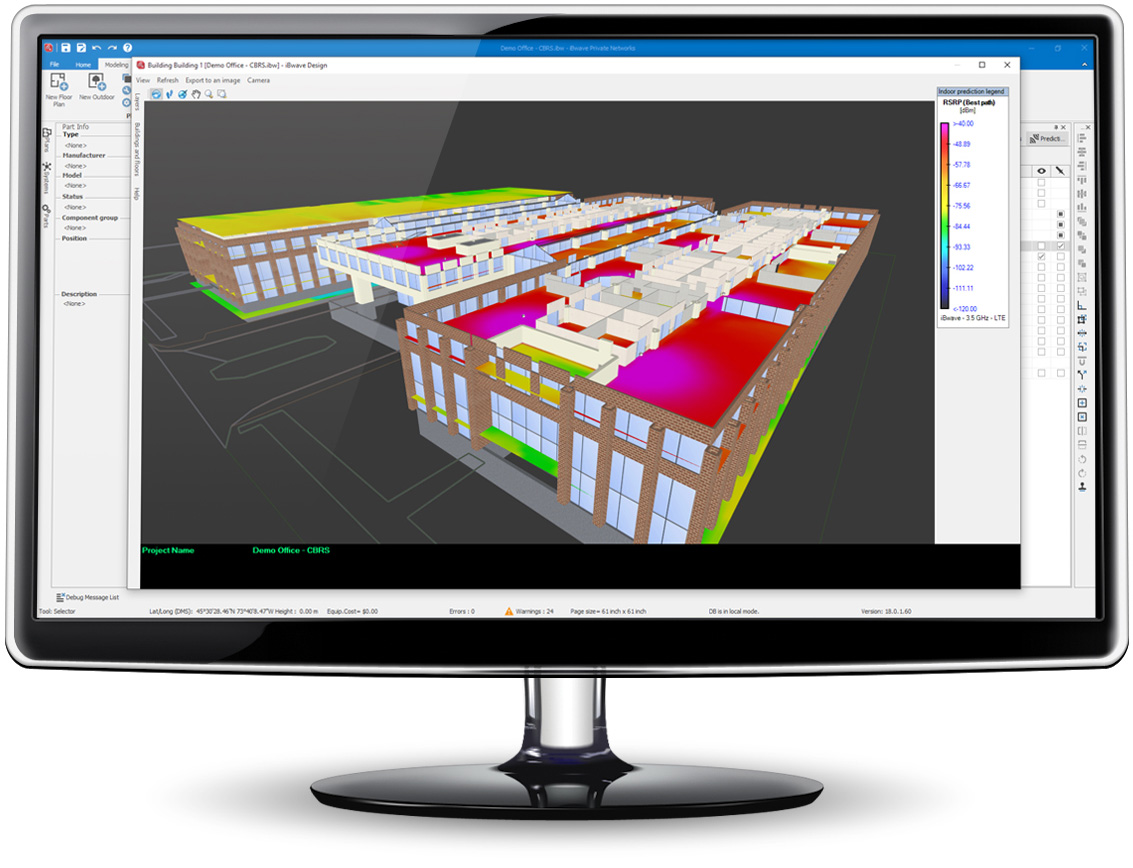 Advanced 3D Modeling and Network Performance Simulation
Model your venues and environments in full 3D and then run accurate simulation of how your wireless networks will perform in real-life.
Simplify Wi‑Fi Design with our 'Basic' and 'Advanced' Modes. The 'Basic' mode offers the most common features for designing Wi‑Fi networks, so you can work faster and simpler. You still have the option to switch between the modes and choose the one that suits you the best.
Advanced 3D Modeling. Import floor plans in AutoCAD, PDF or any image file to model your buildings in a CAD-powered modeling engine. Draw walls, floors, horizontal, circular and inclined surfaces. Assign materials from an extensive database of materials - or add your own material. View the model in a powerful 3D viewer and watch it come to life.
View prediction and design details in 3D. View prediction and the placement of your network components and cabling from floor-tofloor throughout the venue. Use the 3D viewer to visually show your customer exactly what the network will look like and how it will perform once it is implemented.
Adjust 3D view layers. In the 3D modeler, you can adjust all planes of your design (x,y,z) to view your building as a whole or floor by floor. You can also adjust visible layers to choose what you are looking at: cabling, APs, network equipment, prediction). Zoom in, walk through and pan your design and export an image to include in reports or send to your customer.
Share in 3D with your customers. Share the free 'iBwave Viewer' with your customers so they can open the design file and view it themselves in 3D.
Cloud connectivity. Save your projects to the cloud so you and your team can access your projects from anywhere, anytime.
Seamless connectivity with iBwave Private Networks. Work on your designs from either your tablet or PC knowing your files will always be accessible from both.
Share projects with your customers with iBwave Viewer. Send your design to your customers for review via a secure link so they can open it up in iBwave Viewer and provide you with feedback.
---
Unparalleled Design Accuracy
Recognized across the industry for design accuracy, iBwave Private Networks has powerful features built in to ensure that network you install and deploy will perform exactly as predicted in the software.
Fast Ray Tracing Prediction Engine. The fast ray tracing prediction engine goes beyond Free-space path loss and is the most accurate in the industry. It considers reflection, diffraction, walls, horizontal surfaces and inclined surfaces when it simulates how the network will perform within the 3D modeled environment.
Prediction Calibration. Calibrate prediction with your survey measurements to increase the accuracy of the network's predicted performance. Calibrate all coefficients or just material coefficients, and then save the model to apply to similar environments in future projects.
Inclined Surface Modeling. The more accurate you can model, the more accurate prediction will be - especially with inclined surfaces. Ensure accuracy with the ability to model inclined surfaces the prediction engine will take into account when simulating performance.
Attenuation by Frequency. All materials used for modeling in iBwave have attentuation loss defined for each band. Meaning attenuation is different for Wi‑Fi 2.4Ghz, to Wi‑Fi 5Ghz, to CBRS, etc. Small differences in attenuation values can make a big difference in performance results.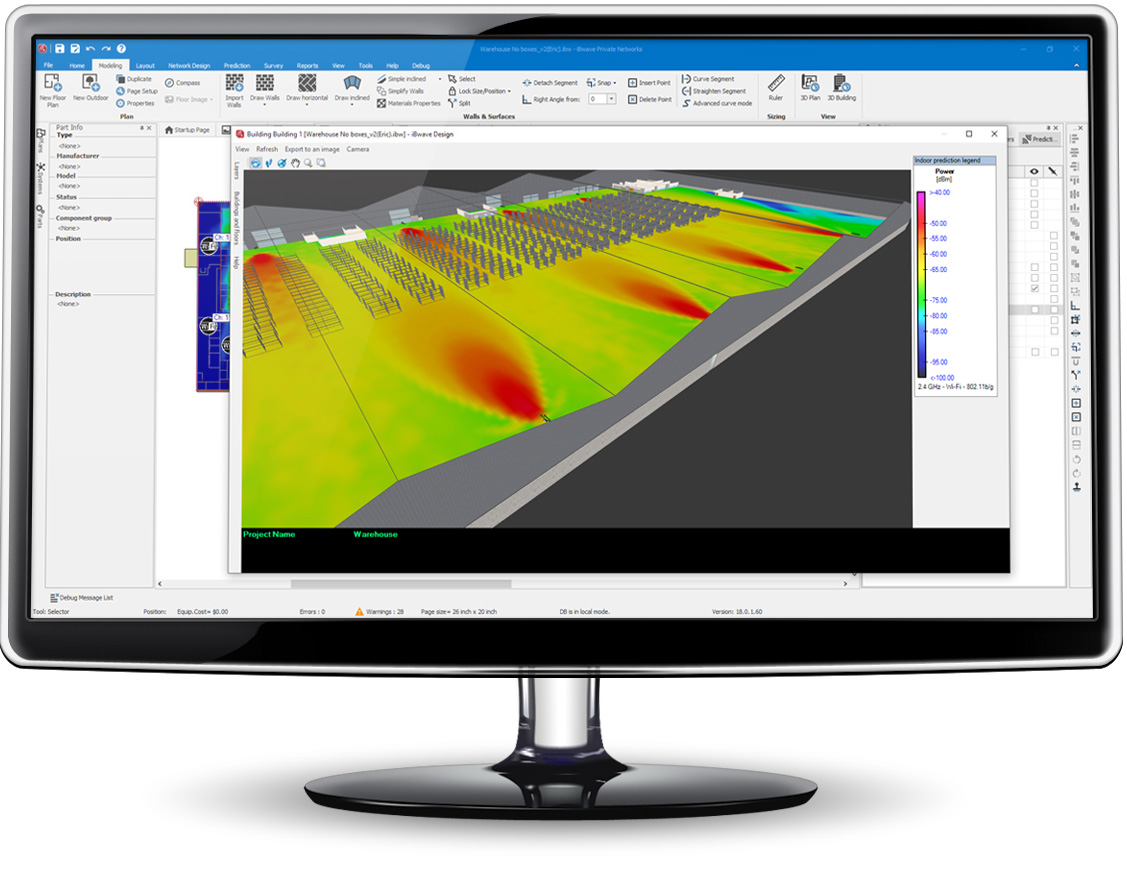 ---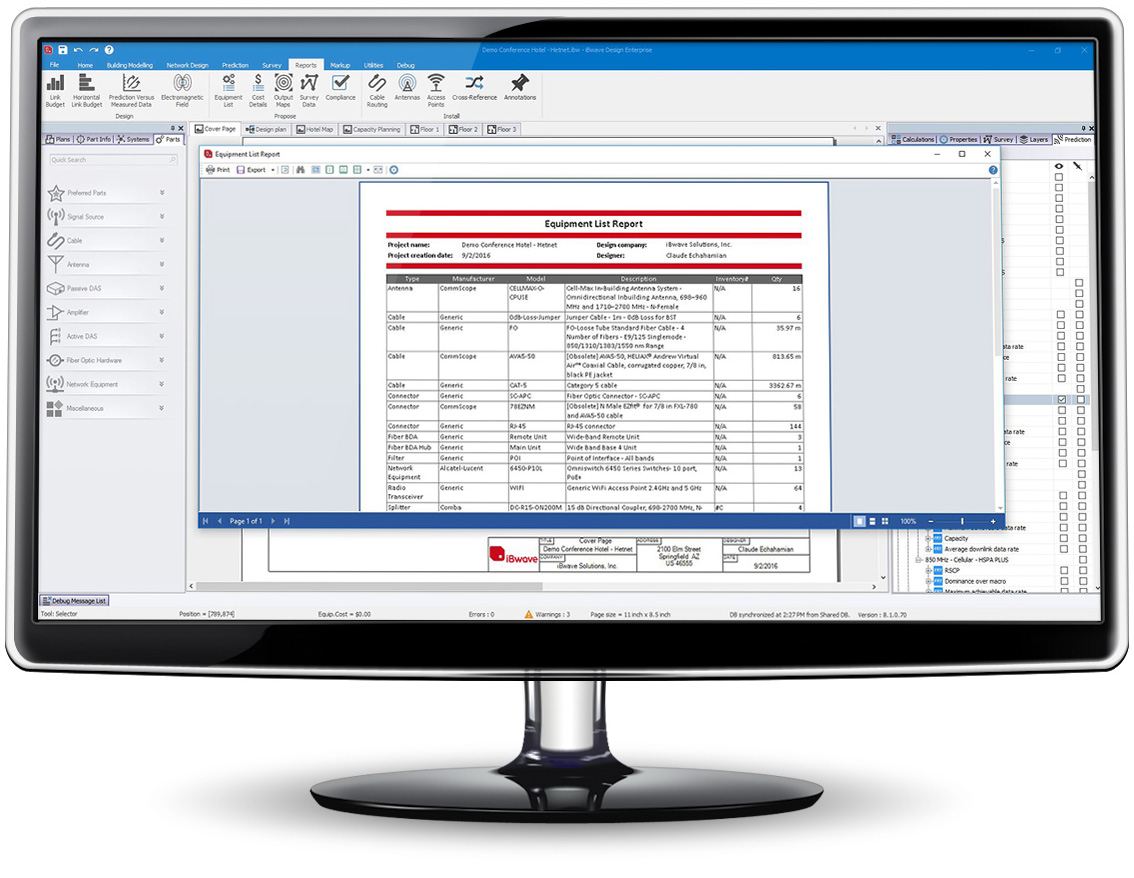 Full Reporting & Digitization of Site Documentation
Quickly generate key project reports to distribute to your internal and external stakeholders.
Automatic Equipment List (BOM) & Cost Details

Prediction vs. Measured Data (for Calibrated designs)
Access Points, Cable Routing & Cross-reference
Annotations, Survey Data
Output Maps (See 'Feature Set' below for full list)
Electromagnetic Field (EMF)
Compliance
Survey Analysis. View KPIs, interpolate survey data, validate
compliance criteria and filter survey data
iBwave Viewer. This free software lets your customers open design
files (read-only), view the design and prediction in 3D and run their
own project reports anytime they want.
---
Seamless Integration to Survey & Site Management Tools
Integration to iBwave Mobile Survey. Perform your Wi‑Fi and/or LTE surveys from iBwave Mobile Survey and then seamlessly access the survey data, notes and documentation from within the iBwave Private Network software. Analyze the data, filter by criteria and incorporate the insights into your designs.
Integration to iBwave Unity. Gain total oversight into all your wireless sites by connecting iBwave Private Networks to our cloud-based collaboration platform iBwave Unity. Manage all sites from a single location, run reports across all sites, and digitize all documentation in one place to easily access for future maintenance or upgrade initiatives.
iBwave Viewer. This free software lets your customers open design files (readonly), view the design and prediction in 3D and run their own project reports anytime they want.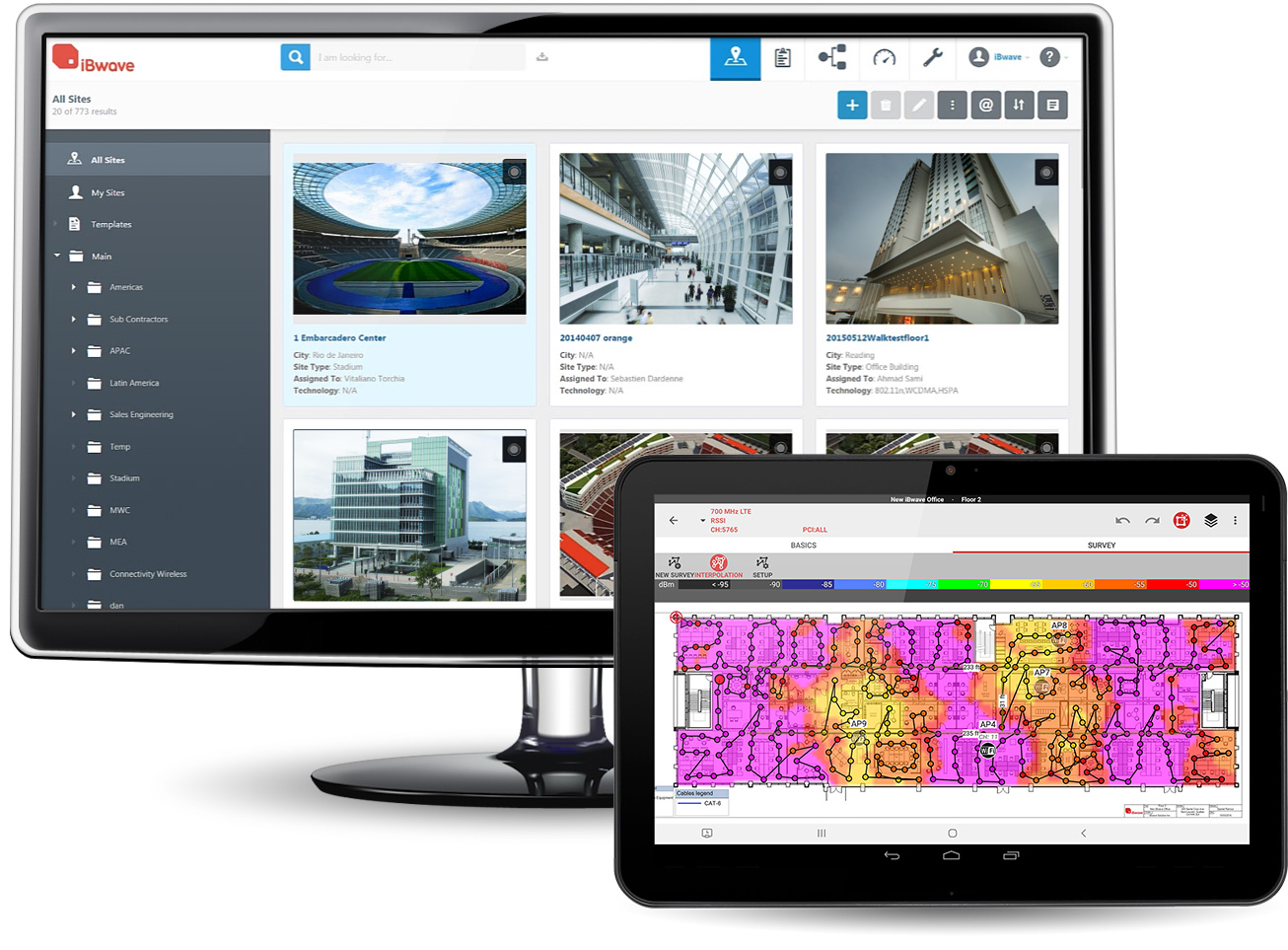 iBwave Private Networks is the best value CBRS & Wi‑Fi network design software on the market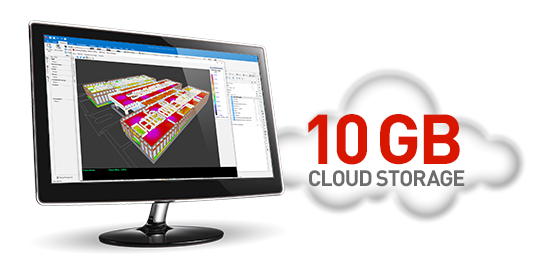 iBwave Private Networks (CBRS with Wi‑Fi)
CBRS and Wi‑Fi network design software for your PC.
iBwave Private Networks (CBRS with Wi‑Fi Solution)
10 GB of cloud storage
iBwave Viewer (read-only version)
AMS support included with subscription
BUY ONLINE NOW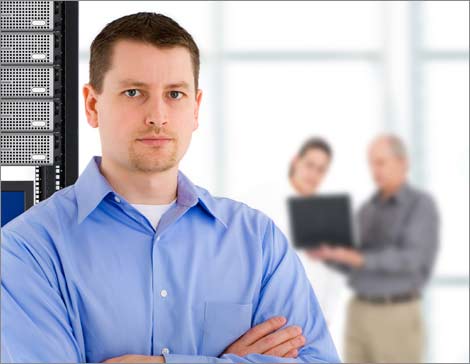 Support services
We offer a full list of services such as building and environment modeling, creation and certification of components, and legacy project design conversion to the iBwave format.
VIEW SERVICES
Annual maintenance services
iBwave's entire product suite is covered by an optional Annual Maintenance Service for full customer support, and access to updates and upgrades on all our products.
LEARN MORE