The design and performance of a public safety network can make a critical difference for emergency responders and the people they are helping to protect. The networks need to handle real-time communication, varying densities of data, and always be reliable. But designing a public safety network has it's challenges. There are inconsistencies with applying code, approvals are not easy to obtain from authorities that have jurisdiction (AHJs), the buildings are not always built yet, every region has it's own requirements, and building owners are wary of aesthetics and surprise costs that arise during installation.
An approved public safety network starts with an accurate public safety network design.
iBwave Solutions provides the most powerful solution to design and deliver public safety networks that building owners, first responders, and the public can rely on. Our software makes it easy to design and simulate network performance for greenfield or existing buildings, to work with building owners and authorities having jurisdiction.
Plan, design and propose public safety networks that building owners and AHJs will approve.
SIMULATE NETWORK PERFORMANCE FOR NEW OR EXISTING BUILDINGS
Simulate network coverage for a greenfield or existing building to ensure it will meet regulation requirements before it's deployed. Easily show building owners 3D heat maps to give them confidence in the design and coverage.
AUTOMATE NETWORK DESIGN TASKS, SAVE HOURS OF WORK
Automate and streamline many of the tasks in a wireless network design that can take hours when done manually. RF Link budget calculations, performance simulation, reporting, an accurate bill of materials, and more.
EASILY SHARE FILES WITH PROJECT STAKEHOLDERS
Provide AHJ stakeholders with a free read-only version of iBwave Design to open and view network designs in 3D. Save, access and share files with stakeholders via the cloud.
GENERATE QUOTES FASTER
Accelerate the bid submission process with our automated features and large database of accurately-modeled vendor parts. Quickly generate an accurate bill of all materials required for the design and provide accurate cost estimates to your customer.
EASILY ADAPT NETWORK DESIGNS TO REGIONAL REQUIREMENTS
Easily design public safety networks in accordance with different regional requirements. Re-use previous DAS or public safety network designs to start new projects.
REVIEW NETWORK DESIGNS IN 3D WITH BUILDING OWNERS & AHJs
Help building owners and AHJs to visualize the network by showing them the design in our advanced 3D viewer. Show them equipment placement, cabling and simulate performance, all in 3D.
iBwave Solutions for Public Safety Networks
We provide a suite of products and training for planning, designing and delivering public safety networks.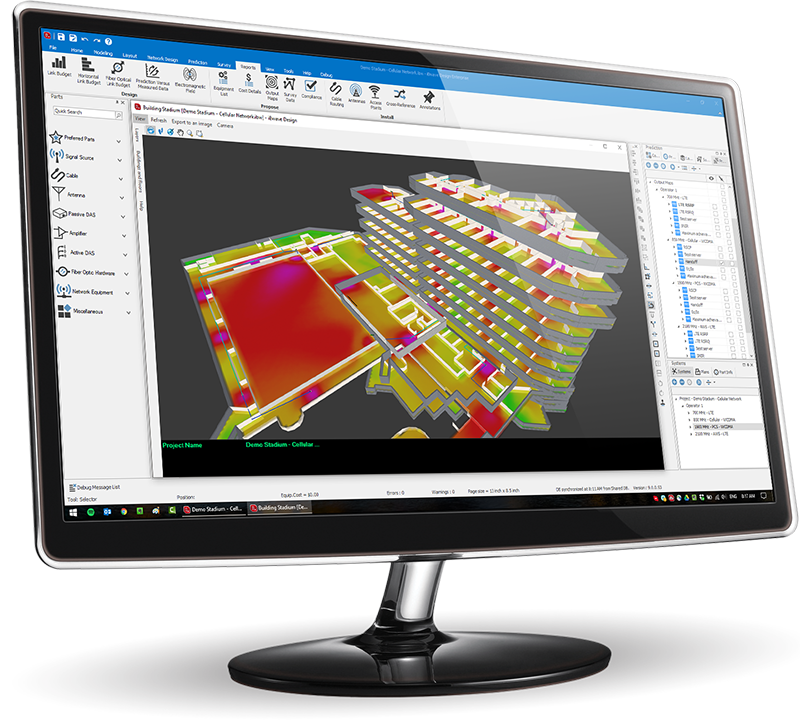 Powerful Public Safety Network Design Software
Advanced 3D modeling of the venue
Design greenfield or existing buildings
Accurately simulate network performance before installation
Cable routing and pricing
Design from large database of accurately-modeled vendor network parts
Automatically generated complete bill of materials
Automatic link budget calculations
Discover iBwave Design

Cloud Connectivity
Seamless integration between products
10GB of cloud storage
Access to files on desktop or app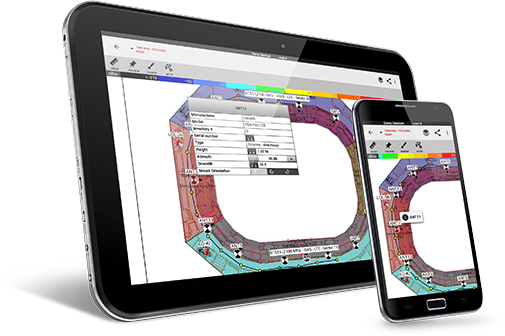 Mobile App for Site Surveys
RF and Wi-Fi measurements via integration with 3rd-party collection tool
Geo-located pushpins to save site visuals
Small cells and Wi-Fi network design
Automatic access point placement
Instant network performance prediction
Cloud connectivity to PC versions
Discover iBwave Mobile Note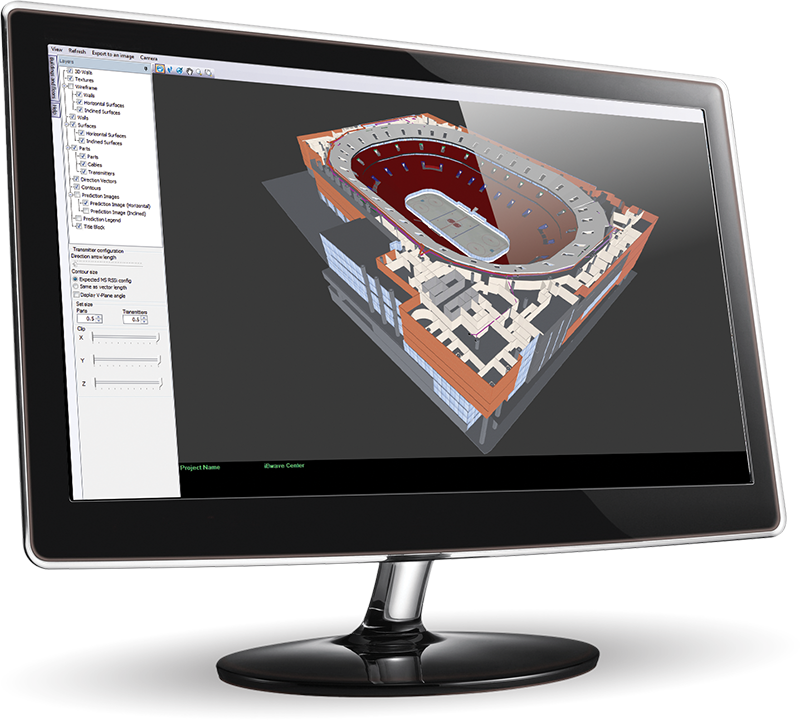 Free Viewer for Stakeholders
Ensure standard format
Validate compliance quickly/easily
Receive projects
Collaborate with all stakeholders
Learn more about iBwave Viewer
EBOOK: DESIGNING PUBLIC SAFETY NETWORKS: CHALLENGES & BEST PRACTICES
Public Safety Networks don't have degrees of quality – they either work or they don't. And with something as important as communication in the event of an emergency, a poor RF signal can be catastrophic for first responders. There's a lot to think about – building regulations, fire codes and safety laws, heavy voice and data traffic on the network, and connecting hard-to-reach areas.
Our latest eBook – Designing Public Safety Networks – tackles the subject from every angle. It takes a 'safety from the ground up' approach – how unique Public Safety Network challenges need to be addressed at every stage of the design process, from conceptualization to completion. It provides in-depth coverage on challenges and best practices, as well as an overview of IFC and NFPA guidelines used to standardize PS network design.
GET YOUR FREE EBOOK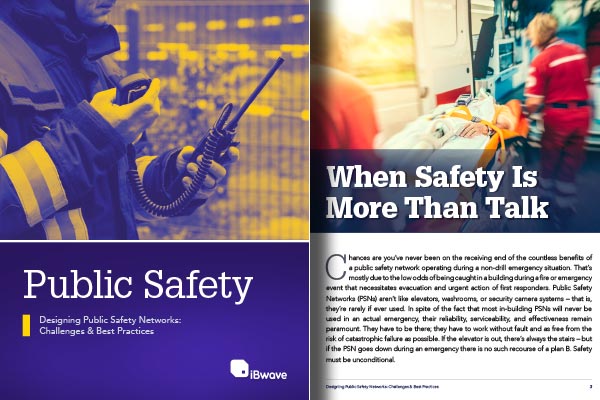 SUPPORT IS DELIVERED BY OUR TEAM OF NETWORK DESIGN EXPERTS. AVAILABLE WORLDWIDE, AT ALMOST ANY TIME. WE'RE HERE TO HELP.
CONTACT SUPPORT
LOOKING FOR SOME TRAINING?
OUR COURSES TEACH YOU THE LATEST IN-BUILDING WIRELESS NETWORK PLANNING AND MANAGEMENT TECHNIQUES.
LEARN MORE