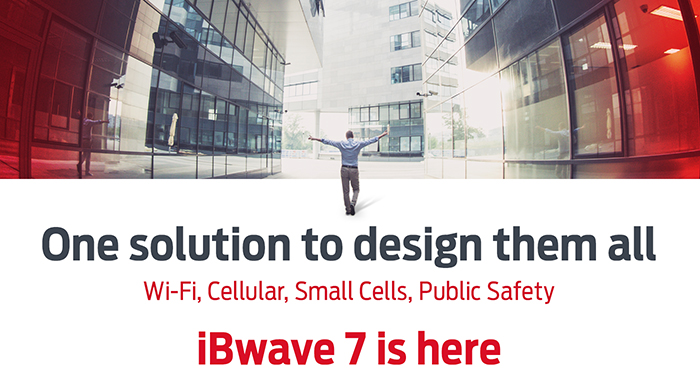 There is little doubt that cellular and Wi-Fi technologies are coming together to give the market what it's demanding: fast, reliable and affordable wireless access, everywhere.

So, how can you most efficiently plan, design and deliver the hetnets the market is asking for?

With our new release, iBwave 7, we've made massive Wi-Fi and small cell enhancements and truly have a single solution that can design all technologies: Wi-Fi, DAS, small cells, public safety. And with everything connected and synchronized via the cloud, collaboration across teams and across organizations is easier than ever.

Here's a quick glance at what our suite of wireless network design products can do.


iBwave Mobile Planner (to survey & start the design)

Everything you need for your site surveys is available in this cloud-connected mobile app. Take your measurements and save all of your documentation directly on your tablet and then save them to the cloud to collaborate with the team back at the office. For average Wi-Fi or Small Cells deployments you can also design the network directly on-site, completing the construction validation as you go, dramatically reducing your time-to-market for those projects.


What you can do with it

| | |
| --- | --- |
| • | Receive RF measurements from any leading network testing tool (seamless integration) |
| • | Capture & save site pictures to geo-located pushpins on the floorplan |
| • | Annotate images to clarify design & install instructions |
| • | Drag & drop Wi-Fi or Small Cells network components to design your network as you walk |
| • | Run coverage predictions on-the-spot with a pass/fail indicator |

iBwave Design (to design any technology, simpler)

iBwave Design is recognized as the worldwide software standard for designing indoor wireless networks. It has been trusted by RF engineers around the world to design and deploy over 100,000 DAS, small cells, Wi-Fi and public safety networks.


What you can do with it

| | |
| --- | --- |
| • | Design from a database of 20,000+ network elements |
| • | Design with accurate 3D building modeling with the most common construction material |
| • | Run advanced prediction analysis of coverage, throughput and capacity |
| • | Run automated reports, construction plans and closeout packages |

iBwave Unity (to stay synchronized & centralized)

iBwave Unity is our project management solution that synchronizes all of your wireless network projects across iBwave products and helps you manage them through their entire lifecycle from a single location.


What you can do with it

| | |
| --- | --- |
| • | Synchronize building & project information in a single location |
| • | Quickly start new projects & search for old ones |
| • | Utilize best-practice project plan template with phases & tasks built-in |
| • | Access from anywhere with a responsive HTML based interface |

Wirelessly Yours,
iBwave
FOLLOW US ON ...



T +1 855 4.iBwave • F +1 514 409 2499
7075, Robert-Joncas • Suite 95 • Montreal, QC • H4M 2Z2 Canada