What's New in R9: iBwave Design and Mobile Planner
The newest release of iBwave Design and iBwave Mobile Planner is here and packed with powerful new features that have been requested by our users.
ATTEND DEMO WEBINAR OF NEW FEATURES
iBwave v9 is a HIGH step forward! From being a part of the Beta program, I can definitely say that this release is ALL about the end user! Every step of the way, user feedback has been received and incorporated into the software. The updated/improved GUI is easy to work with and well thought out! The ability to build a "Custom Ribbon" is a GREAT feature as well!
- Russ Edmondson, RF Design Engineer Associate III, Goodman Networks -
The new interface is intuitive, with an easy learning curve for new users. The ability to customize the workspace and ribbon as desired is great, I can choose and position the layout and commands the way I desire, ultimately shortens my design time.
- Marc-Andre Richer, Design Specialist, Telus -
It is a well built interface
- Besnik Bashi -
This is a great improvement!
- Kaine Apryss, Ruckus Wireless -
I like it a lot! Took some getting used to but overall it is much improved.
- Ryan Oliveira, Black Box Network Services -
User Interface Updates
An all-new modern and intuitive user interface is here with an intuitive workflow and menu structure following the phases of an in-building network design project.

The result? Accelerate your day-to-day use of the software.
ATTEND R9 DEMO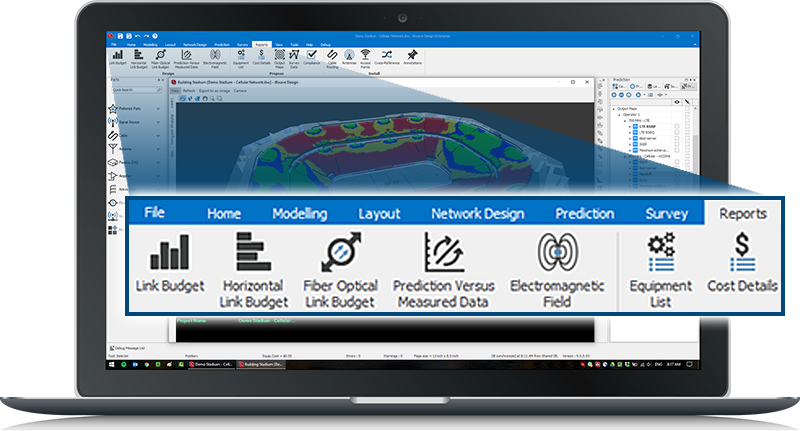 ---
Automatic Cable Alignment
Model cable trays in iBwave Wi‑Fi® Mobile or iBwave Wi‑Fi® and then take advantage of the new automatic cable alignment feature that will automatically snap your cable to the trays along the cable route.

The result? Save hours of time when routing cable and never worry about the alignment accuracy again.
ATTEND R9 DEMO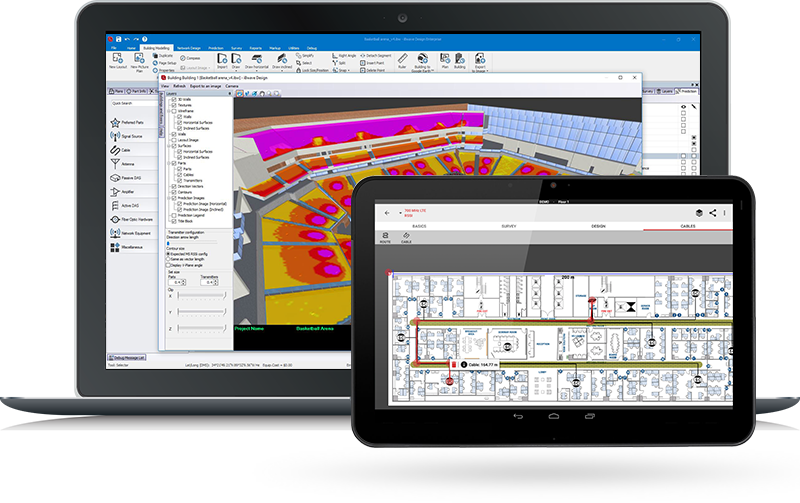 ---
4X4 MIMO, CBRS & LTE-A Improvements
Take advantage of the new 4x4 MIMO support and LTE-A Improvements
Take advantage of LTE standard on 3.5 GHz
ATTEND R9 DEMO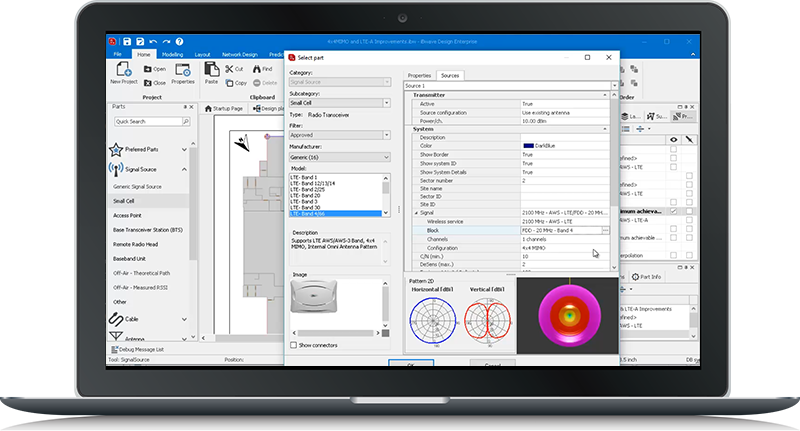 ---
Multi-Radio APs
Design high‑density venue networks using our new Dual 5GHz radio access points from Aerohive, Cisco, Xirrus and more.

The result? Improve the accuracy of your predictions and bill of materials for high‑density network designs.
ATTEND R9 DEMO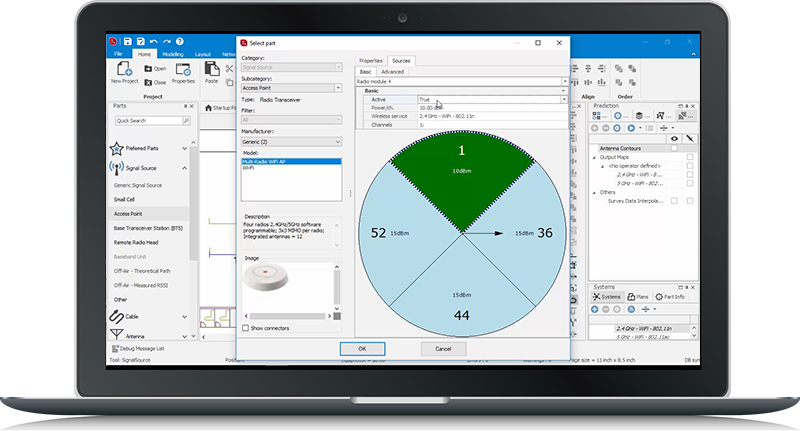 ---
Prediction Exclusion Zones
Exclude areas from the prediction calculations so you focus only on the areas that are intended to receive coverage.

The result? Better accuracy with the compliance reports and more meaningful output maps.
ATTEND R9 DEMO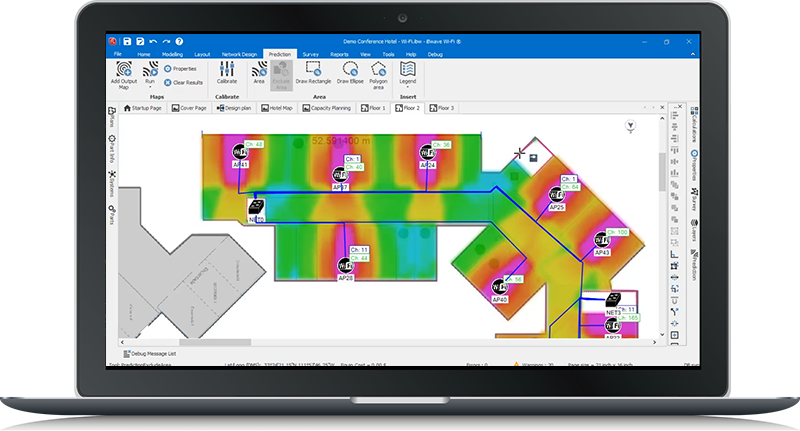 ---
Reset Part IDs
Reset the part IDs of your design plan so the order of the parts are in a logical order for the installation team.
ATTEND R9 DEMO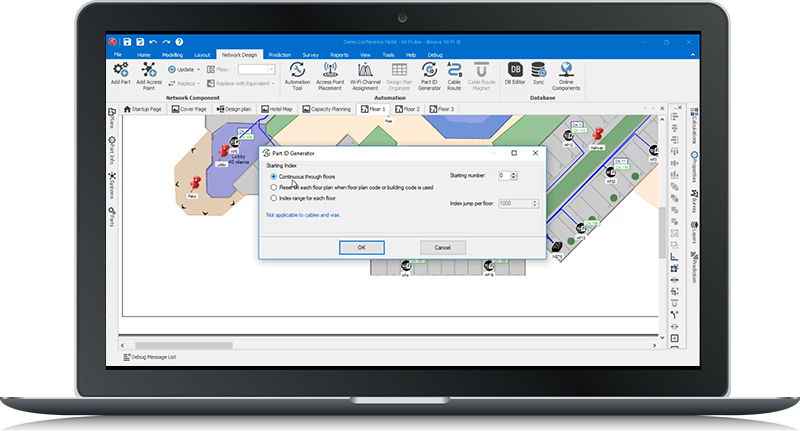 ---
Smart Antenna Contouring
View live signal prediction results on-screen as you place radios.

The result? Save significant amounts of time by not having to run the prediction engine multiple times while designing.
ATTEND R9 DEMO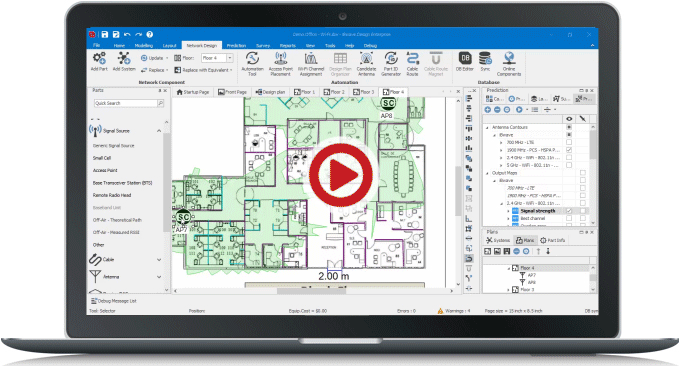 ---
3D Antenna Patterns
Take advantage of the new 3D antenna patterns for directional antennas to ensure the side lobes of the antennas are accurately modeled.

The result? Increase the accuracy of prediction results when designing using directional antennas.
ATTEND R9 DEMO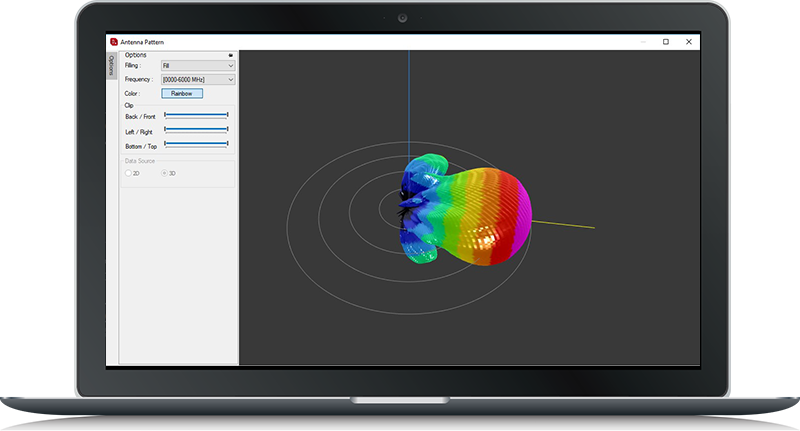 ---
Ring Cut
Connect a Fiber-Bulk cable from a splicing cassette to multiple remote units at several locations within the building, dropping a few fiber strands from the bundle at each remote unit.

The result? Accurately plan the distribution of Fiber-Bulk cable utilization within a large building.
ATTEND R9 DEMO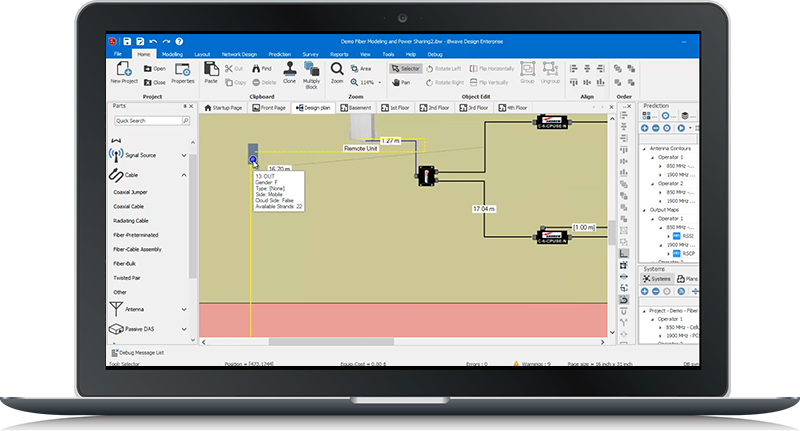 CAT5 Cable Support
You can now route CAT5 cable in the Mobile Planner app.

The result? Complete your designs for small cells and Wi-Fi with the cabling elements and produce a complete BOM on-site.
ATTEND R9 DEMO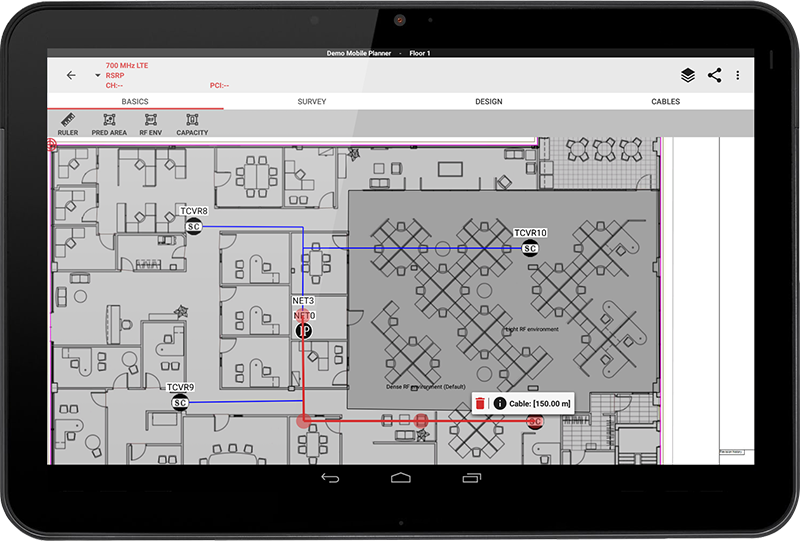 ---
Atrium Support
Modeling environments with Atriums can now be done in iBwave Mobile Planner which augments the number of possible projects you can design onsite.

The result? Reduce the project lifecycle time.
ATTEND R9 DEMO