Accuver's XCAL-Mobile now fully integrated with iBwave Mobile
Mobile World Congress, Barcelona, Spain - March 2nd, 2015 – Accuver, the leader in wireless network testing solutions, and iBwave, leader in indoor wireless solutions, are pleased to announce the seamless integration of Accuver's XCAL-Mobile with the iBwave Mobile Planner solution.

Accuver's XCAL-Mobile is a leading handheld air interface monitoring tool that enables QoS and QoE testing across all GSM, WCDMA, EVDO, Wi-Fi and LTE technologies. The platform supports extensive application testing and delivers real-time network measurement and visualization capabilities in smartphone devices.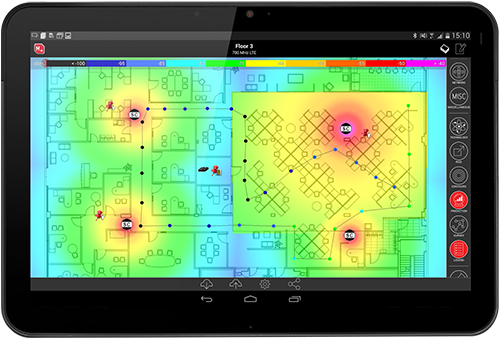 iBwave Mobile Planner is an innovative indoor planning and design application that makes it easy for engineers and technicians to create complete Small Cells and Wi-Fi projects directly from the field, using their smartphone or tablet.

The integration of these two powerful tools will facilitate the exchange of RF data across the two platforms - through one single device – thus considerably simplifying and accelerating the overall network design and testing process.

"The integration of our two state-of-the-art solutions allows our customers to considerably increase the efficiency of their in-building network planning and performance measurement by reducing the cost and streamlining the procedures" stated Rubianto Satrio, Accuver Americas' General Manager.

"By integrating our two platforms into a fully unified solution, we have considerably streamlined the RF data collection process, which translates into direct cost-savings and greater accuracy for our customers" explains Benoit Fleury, VP of Products and Innovation at iBwave.

iBwave will be exhibiting at Mobile World Congress 2015 (Booth #7C71) and showcase its data integration capabilities. A meeting with Accuver can also be scheduled at the show (Meeting Room# 5M28MR). Please contact Nathalie Robitaille, VP of Marketing at iBwave or sales.usa@accuver.com to schedule a private demo or request further information.


ABOUT ACCUVER
Accuver is the leading provider of wireless measurement solutions which optimize the performance and reliability of mobile networks. Accuver's state of the art solutions are used worldwide by major wireless network carriers, infrastructure vendors and chipset manufacturers. Accuver's XCAL/XCAP product line offers tools for drive testing, network optimization, mobile testing, network benchmarking, In‐building testing and data post-processing for all of the major mobile wireless technologies. www.accuver.com
CONTACT INFORMATION
Daniel Galeana
Sr. Director of Sales
T: + 1 469-241-6112
E: sales.usa@accuver.com
---
About iBwave
iBwave Solutions, the standard for converged indoor network planning is the power behind great in-building wireless experience, enabling billions of end users and devices to connect inside a wide range of venues. As the global industry reference, our software solutions allow for smarter planning, design and deployment of any project regardless of size, complexity or technology. Along with innovative software, we are recognized for world class support in 90 countries, industry's most comprehensive components database and a well-established certification program. For more information visit: www.ibwave.com
For more information, please contact
Nathalie Robitaille
VP Marketing, iBwave
E: nathalie.robitaille@ibwave.com