iBwave Design Lite Cuts Design Time by 30 percent
New iBwave Design Lite Promises to Cut In-Building Network Design Time by 30 percent
MONTREAL, CANADA, July 29, 2015 – iBwave, the global standard software for designing multi-technology in-building networks announced today the release of a new version of their entry-level indoor network design tool, iBwave Design Lite. After successfully releasing Design Lite three years ago, iBwave has seen an increase in demand for its entry-level design tool and has responded by enhancing Design Lite to be significantly more powerful. With the new features added, iBwave estimates that iBwave Design Lite can reduce the time spent on designing passive DAS, small cells and public safety networks by over 30%.

"iBwave Design Lite is designed for less complex project deployments in order to eliminate the tedious manual work with Visio, Excel and AutoCAD that many are still doing today", explains Mario Bouchard, President and CEO of iBwave. "While our flagship Design Enterprise software is at the heart of most major in-building design projects, it's important that iBwave offers software for less complex projects with budget restrictions. This is what motivated us to develop iBwave Design Lite, a solution for small to medium scale projects."

Key Features of the new iBwave Design Lite
Multi-technology design in a single file: Document and design multi-technology in-building design projects quickly by dragging and dropping equipment from iBwave's component database of over 17,000 accurately-modeled network vendor components. With the components placed, you can view the automatically computed RF calculations.
Coverage Maps for evaluating network performance: Simulate your network before it's deployed to eliminate the risk of over-designing and ensure hardware selection is optimized for the most cost-efficient design.
Automated Reporting: Access to automated reports such as link budget, bill of materials, equipment lists and compliancy reports to ensure alignment with your customer's requirements.
iBwave Design Enterprise Compatibility: Work seamlessly with customers, partners and other team members who are using the iBwave Design Enterprise .ibw format.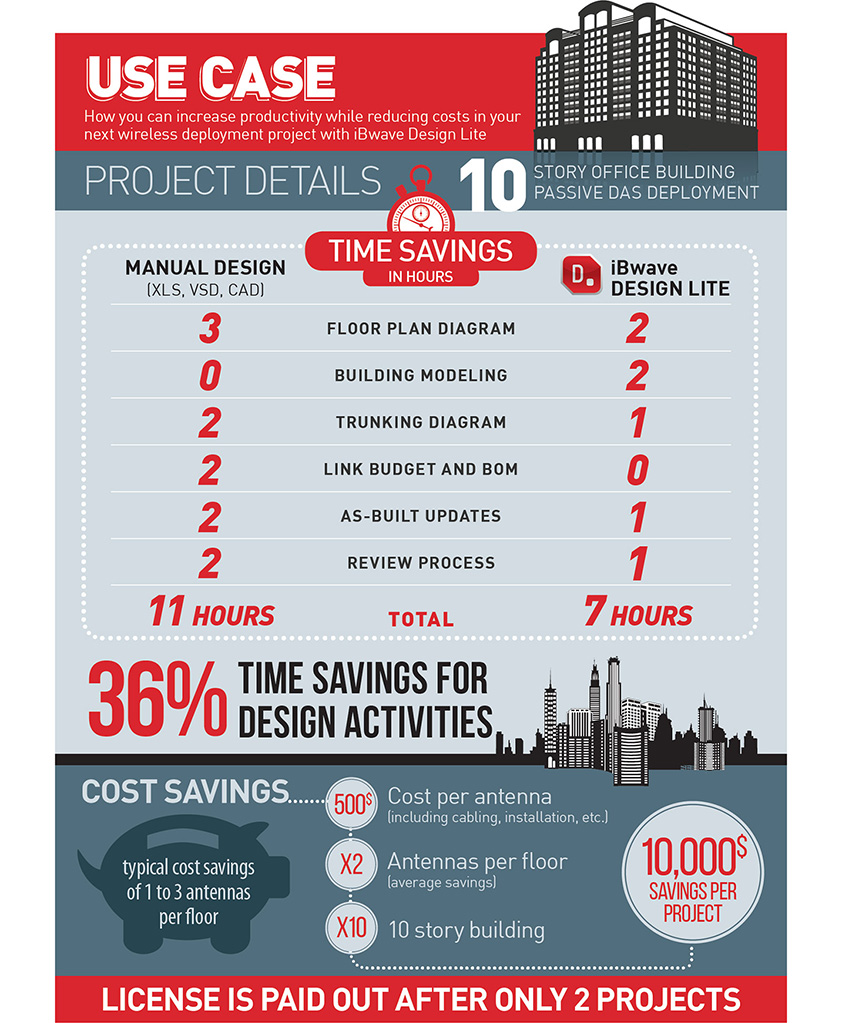 To learn more about the new iBwave Design Lite, visit: //www.ibwave.com/ibwave-design-lite
---
About iBwave
iBwave Solutions, the standard for converged indoor network planning is the power behind great in-building wireless experience, enabling billions of end users and devices to connect inside a wide range of venues. As the global industry reference, our software solutions allow for smarter planning, design and deployment of any project regardless of size, complexity or technology. Along with innovative software, we are recognized for world class support in 90 countries, industry's most comprehensive components database and a well-established certification program. For more information visit: www.ibwave.com
For more information, please contact
Amna Chishty
Communications Specialist, iBwave
E: amna.chishty@ibwave.com