iBwave & Advantel Deliver Superior Indoor Network Coverage
iBwave and Advantel Networks Deliver Superior Indoor Network Coverage to Major Global Enterprises
Montreal 15th March 2016 – iBwave is proud to announce that Advantel Networks, a premier technology solution integrator serving some of the biggest enterprises in the world, has adopted iBwave Design to enhance its in-building design capabilities by bringing them in-house.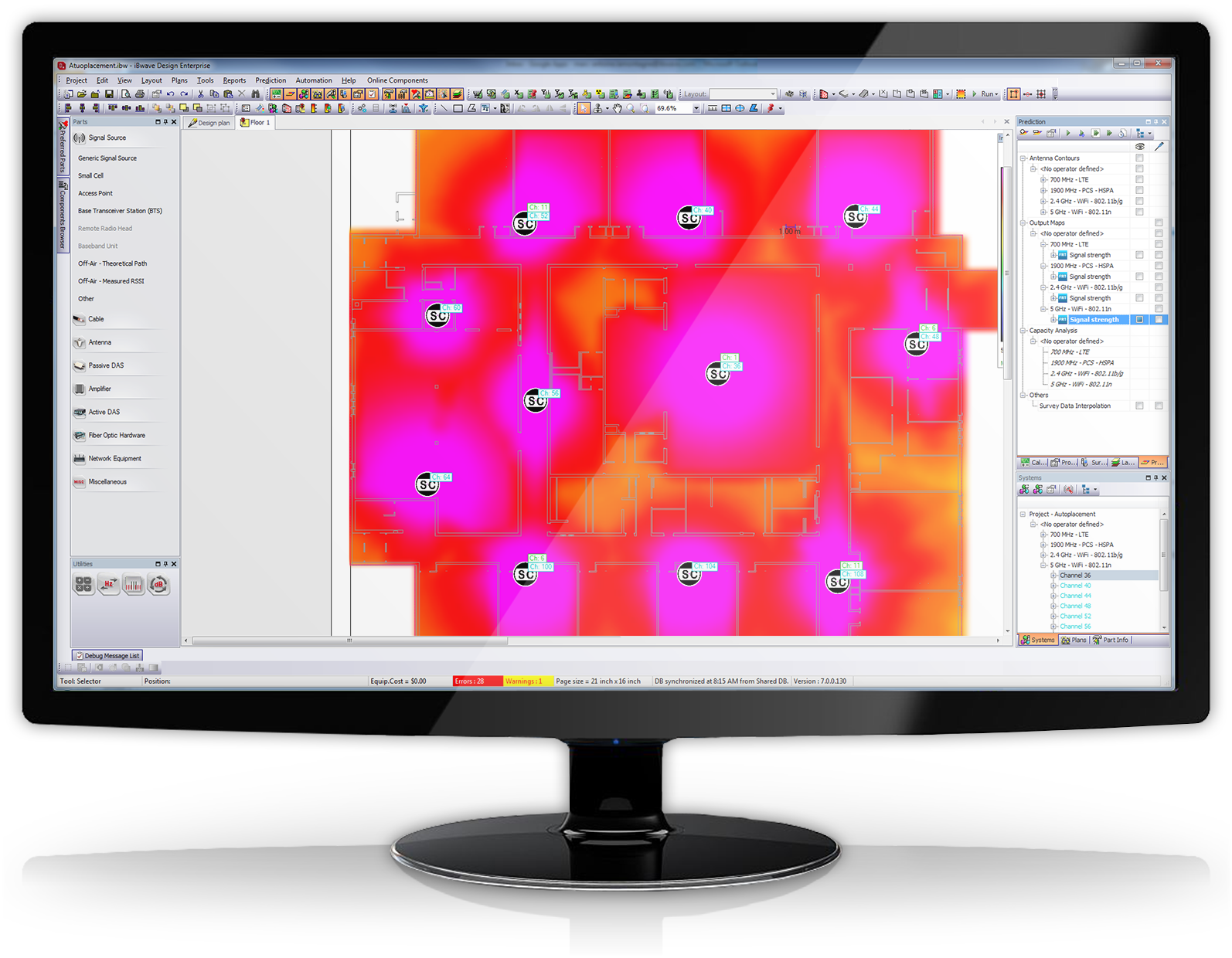 With average project size ranging between 500,000 to 900,000 sq. ft. Advantel needed a solution that could help them quickly plan, design and implement their growing indoor network projects while meeting compliance and privacy requirements. Now with the help of iBwave Design and iBwave's training & certification programs, Advantel's iBwave-certified team of engineers is ready to take on the challenge quite successfully.
Among other projects, Advantel is using iBwave Design for DAS networks at multiple campuses for one of the world's biggest high-tech enterprises. With the help of iBwave's propagation module and its 20,000 in-building network components database, the quality of various designs and antenna configurations can be easily evaluated through visual propagation results. This allows them to rapidly determine the optimal network architecture that will meet the KPIs of their customer while keeping the cost of the deployment to the minimum.
"We are very excited that the professionals at Advantel Networks have adopted our solution for their enterprise design needs. We are committed to providing our customers with innovative solutions that enable the implementation of flawless in-building networks in a variety of verticals" said Benoit Fleury, VP Product of Product Line Management at iBwave.
"iBwave Design is the must-have tool to efficiently design and deploy in-building coverage projects both big and small. We are happy that our iBwave certified personnel are able to take full advantage of the software for accurate design verification. Having iBwave on our side has also saved us about one week per project, which translates into considerable overall savings," said Mark Richie, President at Advantel Networks. "For Active and Passive DAS and Small Cells, iBwave is our go-to design product suite," he added.
To learn more about how iBwave helps connect Enterprises, watch our webinar on Connecting the Corporate HQ.
About Advantel Networks
Advantel™ Networks is a premier technology provider that designs, implements and maintains powerful converged communication and data network solutions to businesses worldwide. For over 30 years, Advantel Networks has focused on reducing infrastructure costs and simplifying IT administration for SMB to Fortune 100 enterprises. Our company delivers critical business solutions and services, such as Security, Data Centers, Storage and Virtualization, Unified Communications, Contact Centers, Cloud, and Integrated and Managed Services. Advantel was recently named to The Channel Company's CRN Solution Provider 500 list, underscoring its value in the IT landscape. For more information, visit advantel.com.
---
About iBwave
iBwave Solutions, the standard for converged indoor network planning is the power behind great in-building wireless experience, enabling billions of end users and devices to connect inside a wide range of venues. As the global industry reference, our software solutions allow for smarter planning, design and deployment of any project regardless of size, complexity or technology. Along with innovative software, we are recognized for world class support in 90 countries, industry's most comprehensive components database and a well-established certification program. For more information visit: www.ibwave.com
For more information, please contact
Amna Chishty
Communications Specialist, iBwave
E: amna.chishty@ibwave.com