iBwave Helps Linktel Prepare for Most Connected Olympics Ever
iBwave Helps Linktel Prepare for the Most Connected Olympics Ever!
Montreal QC, June 27th 2016 - Mobile data traffic at the 2016 Rio Olympics is expected to be 50% greater than the 2012 London Olympics, making it the most connected sporting event in recent history. In preparation for this, Linktel Corp, operator of Brazil's largest independent network of Wi-Fi hotspots has relied on iBwave Design's advanced Wi-Fi capabilities to deploy fast and secure Wi-Fi networks in several high traffic venues across Rio de Janeiro.
An estimated 350,000 to 500,000 foreign tourists and a large number of local fans will arrive in Rio for the Olympics, this influx of people in a city of over 6 million, means Rio's Wi-Fi networks are going to be overloaded beyond normal capacity, causing numerous bandwidth challenges. Luckily with the power of iBwave Design and iBwave Mobile Planner behind it, Linktel is able to survey, design, validate and deploy reliable Wi-Fi networks. Some key Wi-Fi projects completed with iBwave in time for the Olympics include: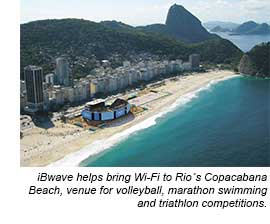 Rescue stations in some of Rio's famous beaches, including Copacabana, the venue for Olympics competitions such as beach volley ball, open water swimming, triathlon and para-triathlon.
23 stations on Rio Metro Lines 1 & 2, with an average daily ridership of more than 1 million commuters, the stress on these lines is expected to increase during the Olympics.
Santos Dumont National and Galeão International-Rio's busy airports gearing up to receive a barrage of Olympics enthusiasts.
Several high-end shopping malls that are sure to see increased traffic during the games.
"iBwave Design and iBwave Mobile Planner work hand in hand to deliver intuitive functionality that cuts down on design time and saves on costs. With iBwave our Wi-Fi projects are completed on time and with extreme precision" said Jonas Trunk, CEO of Linktel. He added "our engineers are able to conduct site surveys and share the data via cloud with other offsite team members, this has improved the quality of our projects and helped us meet even the toughest customer requirements".
"We are pleased to be able to leverage our past experience with Olympic venues to help Linktel bring reliable Wi-Fi to end users, just in time for this high profile event" said Angelica Potes, Sales Director CALA at iBwave. She added "We are continuously evolving the capabilities of our design tools and with the recent release of iBwave's Wi-Fi offering, our customers now have access to even more powerful Wi-Fi network designs".

ABOUT LINKTEL
Founded in 1999, Linktel Corporate is an authorized operator with international presence to offer global solutions in telecommunications through fast and secure methods. With presence on 4 continents and over 50 countries, providing Wi-Fi coverage on the main airports of Brazil, also including coverage on several Shopping Malls, Restaurant networks, and Hotels, the Linktel Corporate provides custom project designs to attend the clients' needs.
---
About iBwave
iBwave Solutions, the standard for converged indoor network planning is the power behind great in-building wireless experience, enabling billions of end users and devices to connect inside a wide range of venues. As the global industry reference, our software solutions allow for smarter planning, design and deployment of any project regardless of size, complexity or technology. Along with innovative software, we are recognized for world class support in 90 countries, industry's most comprehensive components database and a well-established certification program. For more information visit: www.ibwave.com
For more information, please contact
Nathalie Robitaille
VP Marketing, iBwave
E: nathalie.robitaille@ibwave.com