iBwave and AJP Solutions Partner to Deliver Innovative Design
iBwave and AJP Solutions Partner to Deliver Innovative End-to-End Wi-Fi Network Design Solutions to the UK Enterprise Market
Montreal QC, June 1st 2017 - iBwave, the standard for converged indoor network planning has partnered with AJP Solutions to bring its innovative carrier-grade iBwave Wi-Fi® Suite to the UK enterprise market. The iBwave Wi-Fi® Suite provides bundled cloud-connected solutions to simplify Wi-Fi network planning by integrating all aspects of a project including: RF design, documentation, equipment, power and cabling.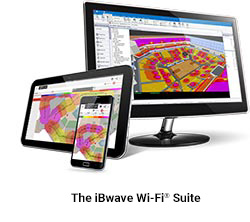 "We are excited to partner with iBwave and be the first organization to take their Wi-Fi Suite to market in the UK. We have worked in Wi-Fi design and analysis for the past 15 years and in that time, rarely encountered a new product that impressed us so much. iBwave have expertly aligned their product to 802.11 wireless technology and now offer a significantly challenging and contemporary alternative in the wireless network design and survey space. We look forward to including iBwave in our portfolio and continuing to serve our customers with best in breed wireless solutions" said Darren Bagnall, Co-Founder, AJP Solutions.

iBwave Wi-Fi® is a complete Wi-Fi network design production solution that integrates seamlessly with the iBwave Wi-Fi® Mobile app, enabling Wi-Fi design teams and their customers to easily collaborate regardless of location. The solution provides 3D modeling, prediction calibration, access to a components database of all network equipment, and an iBwave viewer for customers to easily view design files and run their own reports.

iBwave Wi-Fi® Mobile is a cloud-connected mobile app that allows users to survey and design Wi-Fi networks from their tablets. Networks can be designed on-site by dragging and dropping APs and network equipment. Images can be captured using the tablet's camera and annotations can be added to clarify installation instructions. Cloud connectivity enables easy collaboration between design teams.

"We are eager to start our partnership with AJP Solutions and present iBwave Wi-Fi® to the UK enterprise market. Leveraging 14 years of wireless design expertise, iBwave's unique cloud connected tools enable seamless end-to-end design and implementation of carrier-grade Wi-Fi networks. We are pleased to support AJP as they bring our industry standard solutions to the UK enterprise market" said Claude Echahamian, CEO, iBwave Solutions.

---
About iBwave
iBwave Solutions, the standard for converged indoor network planning is the power behind great in-building wireless experience, enabling billions of end users and devices to connect inside a wide range of venues. As the global industry reference, our software solutions allow for smarter planning, design and deployment of any project regardless of size, complexity or technology. Along with innovative software, we are recognized for world class support in 90 countries, industry's most comprehensive components database and a well-established certification program. For more information visit: www.ibwave.com
For more information, please contact
Amna Chishty
Communications Specialist, iBwave
E: amna.chishty@ibwave.com