iBwave Wi‑Fi Helps TOYO Successfully Design a Wireless Network
iBwave Wi‑Fi® Helps TOYO Corporation Successfully Design a Wireless Network for ShowNet at Interop Tokyo 2017
Aug 10th 2017, Montreal QC - iBwave Solutions, the global standard for in-building wireless network design is pleased to announce that TOYO Corporation, one of Japan's leading technology specialists has successfully used iBwave Wi‑Fi® to design a Wireless LAN network for Interop Tokyo 2017 held at Makuhari Messe Japan. Interop is a major business technology event that brings together tech leaders from across the globe to exchange ideas, learn about the latest trends and meet leading vendors. During the event ShowNet is constructed as a demo network from the latest products contributed by network vendors. It provides network connectivity for exhibitors and visitors. For this year, the number of participating exhibitors reached 535, and over 140,000 people were expected to visit in three days.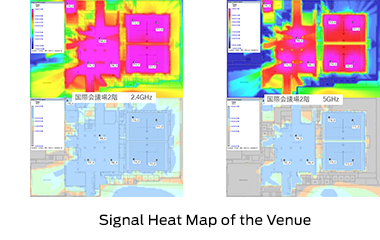 For this year's ShowNet, TOYO was tasked with designing a Wi‑Fi Network that would provide uninterrupted connectivity. In the past, the network suffered quality issues due to wireless traffic congestion. Users complained about dropped calls, low throughput and slow data upload making it difficult to stay connected while at the venue. But this year with the help of iBwave Wi‑Fi® and its 3D prediction capabilities, Engineers at TOYO were able to run simulations and get accurate predictions to make sure the network is fast and dependable, providing uninterrupted connectivity to all attendees.

"Before iBwave we were essentially putting our best guess forward when designing networks and then hoping for optimum results, but now with iBwave Wi‑Fi® on our side, we can generate accurate predictions and make sure our designs reflect the actual needs of the network, this will help us work closely with our partners", Hiroaki Tokumichi, Sales Manager TOYO.

"We are thrilled that TOYO used iBwave Wi‑Fi® to tackle connectivity issues for this important event. Our Wi‑Fi solution leverages iBwave's extensive experience of designing in‑building wireless networks for major world events and venues. This easy to use tool saves you valuable project time and its prediction capabilities take the guess work of designing carrier‑grade Wi‑Fi networks", says Roger Samuel, Director of Sales, iBwave APAC.

Learn more about iBwave's Wi‑Fi Solutions visit our website.

ABOUT TOYO CORPORATION
TOYO Corporation is one of Japan's pre-eminent specialists in the all‑critical area of measurement, providing comprehensive and integrated support in the core triad of hardware, software and education. Our aim is to provide our customers and clients with thoroughgoing and all‑embracing service, while engaging in constant and ongoing feedback with our suppliers and developers. It is our ultimate objective that we serve as an effective interface in all our endeavors, then contribute paving the future for industry and research ends. For more information please visit TOYO Corporation website: https://www.toyo.co.jp/english/

ABOUT iBWAVE
iBwave Solutions, the standard for converged indoor network planning is the power behind great in-building wireless experience, enabling billions of end users and devices to connect inside a wide range of venues. As the global industry reference, our software solutions allow for smarter planning, design and deployment of any project regardless of size, complexity or technology. Along with innovative software, we are recognized for world‑class support in 90 countries, industry's most comprehensive components database and a well‑established certification program. For more information visit: ibwave.com

FOR MORE INFORMATION, PLEASE CONTACT
Amna Chishty
Communications Specialist, iBwave
E: amna.chishty@ibwave.com




---