Multi-Radio AP Support for Riverbed Xirrus Solutions
iBwave Wi-Fi Announces Multi-Radio AP Support for Riverbed Xirrus Solutions
Oct 11th 2017, Montreal QC - iBwave the standard for in-building wireless network design is excited to announce that iBwave Wi‑Fi® now offers Wi‑Fi design and planning support for Riverbed Xirrus solutions.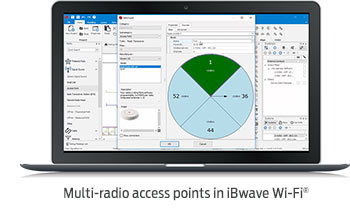 With the continued growth of mobile data consumption designing Wi‑Fi networks for high density venues and tackling capacity issues has become a big challenge for enterprises today. The latest release of iBwave Wi‑Fi® supports Riverbed Xirrus multi‑radio (2‑8 radio) APs, which will allow Xirrus partners to benefit from an accurate Wi‑Fi design and planning solution for each phase of a high-density Wi‑Fi project. This ensures carrier‑grade network reliability and end‑user satisfaction.

Here are some key features and unique capabilities that make iBwave Wi‑Fi® a great planning and design solution for Riverbed Xirrus Wi‑Fi:
3D predictive modelingsurveys
Converged networks designsurveys
Advanced capacity planningsurveys
Streamlined site surveys

Cloud collaboration
Design, review and approval workflow
Automated BOM creation
"The ability to design and visualize Wi‑Fi networks in 3‑D is a unique iBwave feature that I have come to rely on for access point placement and troubleshooting. The granularity iBwave provides is exceptional, especially with the new capability to design with multi‑radio APs that are unique to Riverbed Xirrus for supporting high density Wi‑Fi networks. Add to that the mobile tools and the variety of reports you can generate makes iBwave an invaluable tool for Wi‑Fi deployment" – Ty Parker, Director Solutions Engineering for Riverbed Technology.

"iBwave Wi‑Fi® is proud to be offering multi‑radio AP design and planning support for Riverbed Xirrus. Our Wi‑Fi solution builds upon our extensive experience as the industry standard software mandated by leading Carriers worldwide for in‑building wireless networks" said Tirtho Deb, Director Enterprise Solutions. "This latest version of iBwave Wi‑Fi® ensures the accuracy of prediction results when designing high‑density venues by utilizing our new multi‑radio Access Points support" he added.

Learn more about how the iBwave Wi‑Fi® solution, can help design cost effective carrier-grade networks. Register for a product demo.
---
About iBwave
iBwave Solutions, the standard for converged indoor network planning is the power behind great in-building wireless experience, enabling billions of end users and devices to connect inside a wide range of venues. As the global industry reference, our software solutions allow for smarter planning, design and deployment of any project regardless of size, complexity or technology. Along with innovative software, we are recognized for world class support in 90 countries, industry's most comprehensive components database and a well-established certification program. For more information visit: www.ibwave.com
For more information, please contact
Amna Chishty
Communications Specialist, iBwave
E: amna.chishty@ibwave.com