iBwave & WAV Partner to Bring Convergence-Ready Wi-Fi Networks
iBwave and WAV Partner to Bring Convergence-Ready Wi-Fi Networks to the Enterprise Market
Feb 15th 2018, Montreal QC - iBwave, the standard for converged indoor network planning is happy to announce that WAV Inc, a value-added distributor of world-class wireless networking solutions has added the iBwave Wi-Fi® Suite to its product portfolio.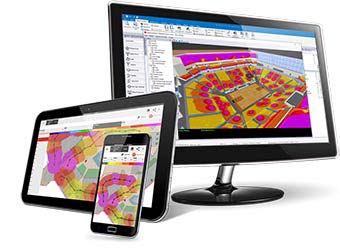 As more and more networks are designed with multiple technologies such as Wi-Fi, DAS, Cellular and Public Safety. There is a growing need for high performance Wi Fi networks that are convergence ready. iBwave Wi-Fi® is the tool to help improve capacity optimization and design accuracy for high density venues that can save hours of time on key projects. Because of this partnership, iBwave's Wi-Fi network design tool will be available to WAV's customers as part of a complete converged network design solution.

"We are excited to work with WAV as they bring our Wi-Fi solutions to their integrator partners" said Tirtho Deb, Director Enterprise Solutions at iBwave. "The iBwave Wi Fi® solution builds upon our extensive experience as the industry standard for in building wireless networks. As a result, it helps our enterprise customers to better plan, design and deploy Wi-Fi networks that are future proof and convergence ready" he added.
"iBwave's solution allows our integrator partners to provide a predictive analysis for complex networking and WLAN environments" said Zach Hubeck, WAV's VP of Sales and Marketing. "In today's competitive WLAN market, end users are buying solutions and outcomes, not SKUs. An integrator that becomes a trusted advisor to their end user by designing a solid Wi-Fi network will differentiate every time. The tools that iBwave provides will make that integrator a trusted advisor."

Learn more about how the iBwave Wi-Fi® Suite, can help design cost effective carrier-grade networks. Register for a product demo.

About iBwave
iBwave Solutions, the standard for converged indoor network planning is the power behind great in-building wireless experience, enabling billions of end users and devices to connect inside a wide range of venues. As the global industry reference, our software solutions allow for smarter planning, design and deployment of any project regardless of size, complexity or technology. Along with innovative software, we are recognized for world class support in 90 countries, industry's most comprehensive components database and a well established certification program. For more information visit: ibwave.com.

About WAV
WAV, Inc. is a full-service distributor of LTE, wireless broadband, networking, and Wi-Fi equipment. Located in Aurora, IL, WAV provides its partners a competitive edge by offering extensive product knowledge & unmatched technical expertise, support for multi-vendor solutions, product availability, as well as professional value-added services for its VAR & WISP communities, including (but not limited to): technical support, predictive analysis services, FCC coordination and installation & diagnostics. "We Make the Internet Work". For more information, call (800) 678-2419 or visit the web at: http://wavonline.com/vendors/ibwave.aspx
For more information, please contact
Amna Chishty
Communications Specialist, iBwave
E: amna.chishty@ibwave.com
---