Check our RF modeling service! Get your design plan drafted based on design requirements provided by you.
RF modeling
Scope of offered service
iBwave will draft a Design Plan (trunking diagram) in iBwave Design (*.ibw file) based on an existing RF Design provided by the client in legacy format (e.g. PDF format, Visio format, etc) and assign RF components as required on the Layout Plans (floors) of the building(s).
From PDF/JPG Trunking Diagram To Design Plan in iBwave Design Enterprise.
iBwave will model any missing RF part if it's missing from iBwave's online parts database.
iBwave can also run different types of prediction maps (Signal Strength, Best Server, Soft Handoff, LTE RSRP, Max Achievable Data Rate etc) based on requested KPI's. Running prediction maps require having the building modeled in 3D from Autocad files or PDF or jpeg files - the scope of which is explained in a separate document.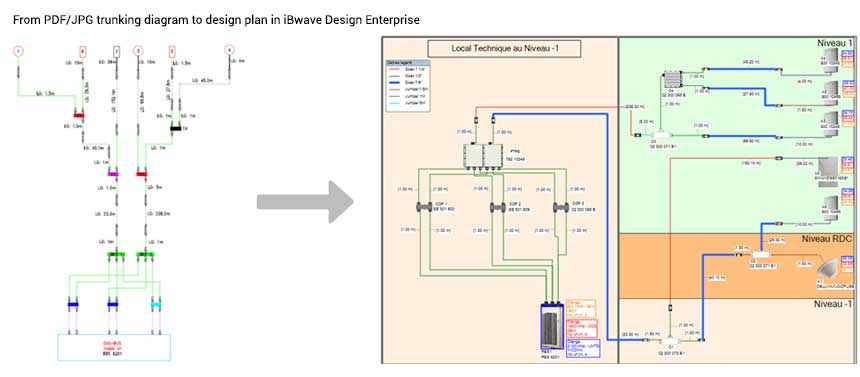 Deliverables to customer
iBwave Design Project file - .ibw with *.predata file if prediction maps are included.
What RF modeling services do not include
iBwave will not make any RF design choice but will strictly follow the customer requirements and choices in terms of DAS architecture, active solution, manufacturer and RF models preferred.
RF Design from scratch based on operators requirements (KPI's). iBwave will only follow RF scenarios as laid out by the customer.
Assigning parts location from scratch – iBwave needs clear guidelines from customer on where to insert antennas, splitters, cable runs, etc. on layout plans.
Project quotation
In order to provide a quote for modeling services, please gather the following information and send it to your local iBwave Sales Rep.
Project Name
Type of venue
# of Floors
Square footage of each floor
Target delivery date
Detailed Floor Plans (.dwg, .dxf, .jpeg, .bmp, .tiff, .gif or .pdf) with RF parts locations (cables, splitters, antennas, BTS, etc)
RF Design (PDF, Visio, JPEG format)
Objectives or compliance criteria's for prediction maps (e.g. coverage at -85dBM on 95% of the surface)
RF parts specifications for missing parts in iBwave database.
CONTACT US FOR MORE INFO