iBWAVE: the power behind great in-building wireless experiences
CASE STUDY: HOW NCR TELECOM & TECHNOLOGY, A LEADING WIRELESS INTEGRATOR, IS USING iBWAVE TO DESIGN CONVERGED NETWORKS IN THE ENTERPRISE.
In order to design and deploy high‑quality networks their customers can rely on, the NCR T&T division has chosen to use iBwave Design as their standard software to design multiple in‑building wireless networks, including: DAS, Small Cells, Wi‑Fi, Public Safety and cabling routes.
DOWNLOAD PDF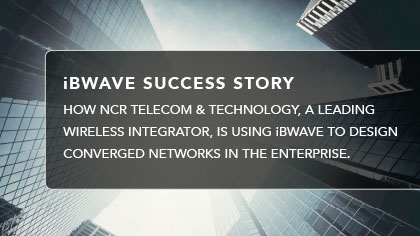 CASE STUDY: A TIER-1 OPERATOR SAVES 10 HOURS ON THE PLANNING AND DESIGN OF AN ENTERPRISE SMALL CELLS NETWORK WITH iBWAVE MOBILE PLANNER
A tier-1 operator was deploying a SpiderCloud small cells network in a warehouse for a leading American retailer. We joined them onsite with our mobile app, iBwave Mobile Planner, giving the operator an opportunity to see how they could signi cantly reduce the amount of manual work required on a site survey, and complete a full design on-site. They were very happy with the results.
VIEW CASE STUDY
DOWNLOAD PDF