Solutelia Announces iBwave Mobile & WINd Solution Integration
Solutelia Announces Integration of iBwave Mobile and the WINd™ Solution
Mobile World Congress, Barcelona, Spain - March 2nd, 2015 – Solutelia has enhanced its revolutionary WINd™ solution by collaborating with iBwave to integrate iBwave Mobile and the WINd™ platform. The two applications are seamlessly integrated via iBwave's .ibwc interface.

"This is a benchmark testing and design tool merged into one, which makes this a very significant combination, using an off-the-shelf Android smartphone or Tablet," said Mohssen Davari, CEO of Solutelia.

WINd™ collects network data, which can be remotely live streamed and controlled via the WINd™ console, and this data integrates with any project created by iBwave Mobile in the .ibwc format.

Through this seamless integration, WINd™ has further proven itself as a complete RF testing solution that is unmatched in efficiency, with iBwave's promise of ease and functionality.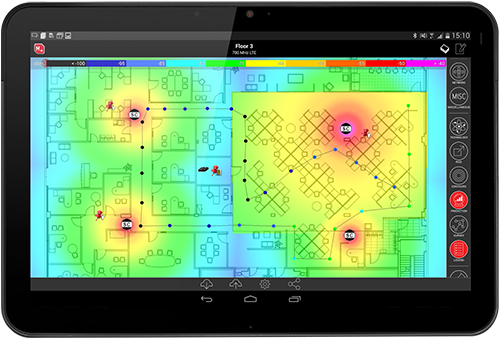 "By standardizing the data exchange between iBwave Mobile and RF collection tools, such as Solutelia WINd™, we have enabled our customers to experience considerable time savings while minimizing the risk of human errors, particularly as they no longer need to manually import RF collection data," explains Benoit Fleury, VP of Products and Innovation at iBwave.

WINd™ supports mobile voice and data technologies, including GSM, UMTS, CDMA, EVDO, LTE, LTE-A, and Wi-Fi. WINd™ is packed with features and capabilities, including remote access and control, real-time KPIs, instant processing, VoLTE testing, carrier aggregation testing, and PCTEL IBflex scanner integration for remote, or on-site, scanning. WINd™ is everything you need in one complete RF testing solution.

iBwave will be exhibiting at Mobile World Congress 2015 (Booth #7C71) and showcase its data integration capabilities. Please contact Nathalie Robitaille, VP of Marketing at iBwave to schedule a private demo or request further information.


ABOUT SOLUTELIA
Solutelia has demonstrated itself as a leading industry resource for establishing and improving wireless coverage for over a decade. Solutelia provides RF engineering and DAS services and solutions. Solutelia has recently introduced the WINd™ software platform that addresses some of the wireless industry's most pressing concerns by providing real-time reporting, testing, and analysis of network performance using the latest commercially available Android™ smartphones. WINd™ supports mobile voice and data technologies, including GSM, UMTS, CDMA, EVDO, LTE, LTE-A and WiFi. Cloud-based control and analysis tools allow access to real-time results from anywhere. http://solutelia.com/

Android is a trademark of Google Inc.
CONTACT INFORMATION
Solutelia
Courtney Howard
Marketing Lead
T: 304.410.3312
E: choward@solutelia.com
---
About iBwave
iBwave Solutions, the standard for converged indoor network planning is the power behind great in-building wireless experience, enabling billions of end users and devices to connect inside a wide range of venues. As the global industry reference, our software solutions allow for smarter planning, design and deployment of any project regardless of size, complexity or technology. Along with innovative software, we are recognized for world class support in 90 countries, industry's most comprehensive components database and a well-established certification program. For more information visit: www.ibwave.com
For more information, please contact
Nathalie Robitaille
VP Marketing, iBwave
E: nathalie.robitaille@ibwave.com