Gap Wireless Distributing iBwave Wi-Fi Suite
Gap Wireless Distributing iBwave Wi-Fi Suite for In-building Network Design
Gap Wireless, a leading stocking distributor of mobile wireless solutions, has added the iBwave Wi-Fi® Suite to its extensive product portfolio. The iBwave Wi-Fi® Suite provides bundled cloud-connected products to streamline the in-building Wi-Fi network planning and design process.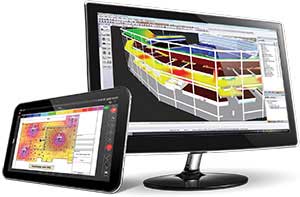 "iBwave's next-generation product suite will enable our carrier and contractor customers to more efficiently and collaboratively manage their Wi-Fi network design and in-building installation projects," said Glenn Poulos, Vice President and General Manager, Gap Wireless. "Gap Wireless now distributes both the iBwave Wi-Fi® solution for the PC and iBwave Wi-Fi® Mobile."
iBwave Wi-Fi® is a complete Wi-Fi network design production solution that integrates seamlessly with the iBwave Wi-Fi® Mobile app, enabling Wi-Fi design teams and their customers to easily collaborate regardless of location. The solution provides 3D modeling, prediction calibration, a components database of all network equipment, and an iBwave viewer for customers to easily view design files and run their own reports.
iBwave Wi-Fi® Mobile is a cloud-connected mobile app that enables users to survey and design Wi-Fi networks from their tablet. Networks can be designed on-site by dragging and dropping APs and network equipment. Images can be captured using the tablet's camera and annotation added to clarify installation instructions. With the project uploaded to the cloud, collaboration and access is easy from iBwave Wi-Fi.
"We are excited to bring in a new Wi-Fi focused solution to increase productivity and collaboration between all stakeholders involved in the design, deployment, and maintenance of Wi-Fi networks," said Scott Pereira, Director Global Product Partnerships & Innovations, iBwave.
Read the original press release here.
ABOUT GAP WIRELESS
Gap Wireless works with industry-recognized vendors to stock and distribute thousands of wireless infrastructure and Test & Measurement products including the most recent addition of a proprietary tower inspection solution using a smart phone, tablet or UAV. Serving carriers and contractors throughout North America, Gap Wireless also provides value-added technical/engineering services including in-house PIM testing, integration, kitting, logistics and VMI.
---
About iBwave
iBwave Solutions, the standard for converged indoor network planning is the power behind great in-building wireless experience, enabling billions of end users and devices to connect inside a wide range of venues. As the global industry reference, our software solutions allow for smarter planning, design and deployment of any project regardless of size, complexity or technology. Along with innovative software, we are recognized for world class support in 90 countries, industry's most comprehensive components database and a well-established certification program. For more information visit: www.ibwave.com
For more information, please contact
Amna Chishty
Communications Specialist, iBwave
E: amna.chishty@ibwave.com